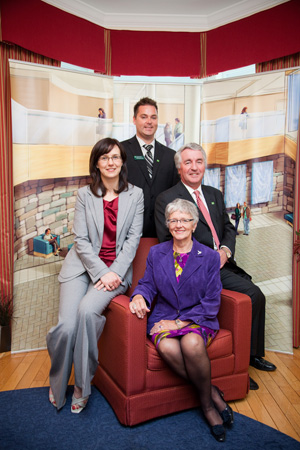 Mount Saint Vincent University has received a significant boost toward its Building Tomorrow Together capital campaign. TD Bank Financial Group has contributed $330,000.00 towards scholarships, programs and building construction, at the Mount.
The donation, announced today, supports the University's $16 million capital campaign, Building Tomorrow Together.
TD has allocated $130,000.00 over four years to enable students enrolled in the Mount's Bachelor of Education program to take advantage of education practicum opportunities in Nunavut.  This initiative – an example of collaboration between corporate, government and educational sectors -prepares teachers for northern positions with the goals of increasing literacy and high school completion in Northern Canada.
"Our support aligns with TD's commitment to a number of focus areas including women in leadership, the Aboriginal community and diversity and education," said Bruce Shirreff, Regional Senior Vice President, TD Canada Trust. "This is an opportunity to increase access to higher education for those who are interested in teaching in Nunavut. Today's gift also brings us closer to our goal to improve literacy and enhance career opportunities for northern youth."
The additional $200,000.00 targets the advancement of women in business, with $100,000.00 allocated towards construction of the Mount's Centre for Women in Business, within the new Teaching, Learning and Research Centre. The other $100,000.00 supports scholarships towards women's leadership development in the Business Administration program.
"We are very grateful for TD Bank Financial Group's exceptional support for the Mount's capital campaign, and their recognition of our contribution to academic excellence," said Alexa McDonough, Interim President and Vice-Chancellor at the Mount. "The generous contribution enables the Mount to continue providing the best educational and working environment possible for our students, staff and faculty."
The Building Tomorrow Together campaign is only the third capital campaign in the Mount's 135 year history.  It success will have a profound impact on students, scholarship and social progress at the Mount, in Nova Scotia, and beyond.
In photo (l-r): 
Deanne MacLeod, Leadership Chair Building Tomorrow Together
Shane Kennedy, Senior Manager Sales & Service, Atlantic Region
Bruce Shirreff, Regional Senior VP, Atlantic Region
Alexa McDonough, Interim President and Vice-Chancellor, the Mount
-30-

For more information contact:
Akiko Lovett
Mount Public Affairs
Tel: (902) 457-6439
Cell: (902) 441-0505
Gregory Harrison
TD
Tel: 416-308-8597
gregory.harrison@td.com