Sean O'Rourke's graduate studies extend far beyond the classroom. In fact, Sean's studies and research recently took him across the continent to Fairbanks, Alaska.
The Model Arctic Council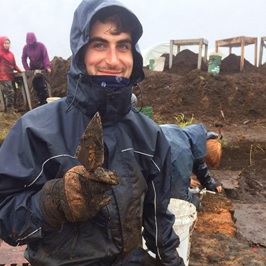 In March of this year, Sean
(pictured at right)
attended the 2016
Model Arctic Council
as part of the Arctic Science Summit Conference.
Held at the University of Alaska in Fairbanks, the conference brought together 65 graduate and undergraduate students from 13 different countries.

"The conference allowed me to meet students with interests similar to mine from all over the world—Russia, Iceland, Ghana, New Zealand, Finland, just to name a few," says Sean. Sean was the only attendee from a Maritime university.
Award-winning paper
At the Model Arctic Council, Sean presented a research paper written prior to the event focusing on youth suicide rates in northern communities. His work was extremely well-received, and awarded a first place prize from among all papers in his category.
"The initiative he took in researching the topic, and the energy he invested in writing it was truly extraordinary," said officials of the event. "The quality of the paper was superb."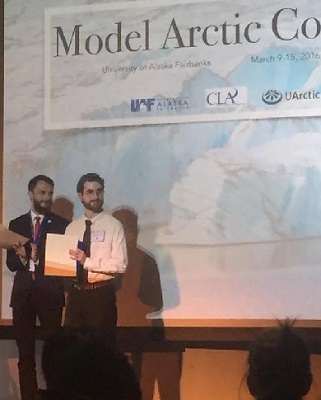 In short, Sean's paper explored the relationship between cultural identity and psychological well being. He proposed that unique aspects of Unangax (Aleut, an indigenous people in Alaska) identity and culture provide this people some protection from negative mental health outcomes (such as suicide) often experienced by indigenous peoples, and he made suggestions for suicide prevention programs for northern youth in other regions.
(Sean is pictured on the right in the photo at left.)
Returning to Alaska
Sean's visit to Alaska this year was not his first. In 2015, he had the chance to attend an archeology field school in a rural village in the state. There, his interest in the culture of indigenous communities in western Alaska was ignited. "I am privileged to be able to return," says Sean.

"I am working with members of the village to learn about how culturally-relevant education programs affect the views of youth on themselves, their community, and their culture. What youth learn at school about the world and how they fit into it, lays the foundation for their self-esteem, personal identity, and later psychological wellbeing."
When passion and research come together
Sean's research and educational interests stem from a natural curiosity and empathy toward others. As a student in the
Research Master of Arts
(RMA) program, Sean is able to pursue specialized scholarly study under the supervision of a full-time faculty member of the
Faculty of Education
. The degree can be taken in connection with any of the graduate program areas offered by the Faculty of Education; the focus of the degree is research.
"The RMA gives me an opportunity to explore things I am really passionate about," says Sean. "For example, I have designed two independent studies that I will do next year: one investigates the history of culturally relevant education in Canada, and the other explores the relationships between adverse early childhood experiences, epigenetics, and suicide in marginalized populations."
Building bridges back to the Mount
At the conference in March, Sean met fellow students and researchers who were drawn to his work. He's made connections across North America that are furthering his studies at the Mount.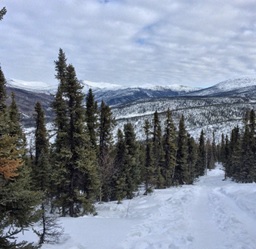 "I am currently working with two Unangax [an indigenous people in Alaska] sisters that I met in Fairbanks. They're helping incorporate their perspectives into what I originally wrote, to update my paper and get it published. Anthropologists and clinical psychologists in the Aleutian Islands who heard about our project are also contributing," he says.
Sean humbly thanks his professors and the Mount for supporting his success. "Neither my research project, nor my experiences at Model Arctic Council, would have been possible without my supervisor
Dr. Krista Ritchie
in the faculty of education."
It doesn't stop here for Sean – he plans to carry this experience forward into future academic pursuits. "I would like to greatly expand one of the projects I am currently working on, perhaps for a PhD dissertation. In the future, I plan to continue to do research that addresses mental health disparities in marginalized populations. I am particularly interested in ensuring that people have experiences in their childhood and adolescence that facilitate their psychological development and later mental health," he says.

(Pictured above right: Mountains by Chena Hot Springs, outside Fairbanks)