Brother-sister duo Fraser and Emily Smith are blazing new paths in astronomy research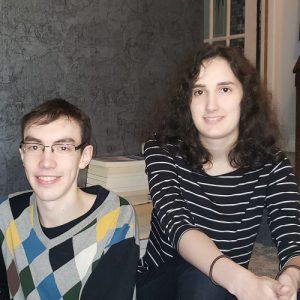 It seems like the sky's the limit for brother and sister student researchers Fraser and Emily Smith. Both stand-out students at Mount Saint Vincent University – one current and one recently graduated – they are making waves in astronomy far beyond their young years. With support from their professors at MSVU, the two have made significant achievements in recent months as they study a complex, 100-year-old problem in astronomy.
"We're looking at diffuse interstellar bands, which are features we find when we look at certain stars. This research is important to further our understanding of the universe as a whole, but I personally believe that if we can find the method for identifying these molecules, we can apply it to applications here on Earth," says Fraser Smith, who recently graduated from MSVU with a Bachelor of Science in mathematics, chemistry and physics. "This is one of the longest outstanding problems in astronomy – we don't know what causes these features to be seen. Our research entails analyzing spectral databases."
Fraser first became aware of diffuse interstellar bands (DIBs for short) when his faculty advisors, Dr. Tina Harriott – MSVU professor and Chair of Mathematics and Statistics, Dr. Chérif Matta, MSVU professor and Chair of Chemistry and Physics and Dr. Dan Majaess of Saint Mary's University – suggested that he might consider studying them for his honours thesis. Professor Lou Massa, a close colleague of Dr. Matta's from Hunter College, New York, first brought this problem to Dr. Matta's attention.
"There are so many different ways to approach the topic of DIBs," said Fraser. "What I really appreciated is that there's a mix of each science discipline involved – there's some biology, some pure mathematics, some physics and some chemistry. I love the mixture of it. I just dove right in and started writing some programs and I've been hooked ever since."
Not to be outdone by her older brother, Fraser's sister Emily is also a high-performing MSVU student who has just started the final year of her Bachelor of Science degree in Mathematics with Honours. She first heard about DIBs from Fraser and decided to pursue her own research in the same area with the encouragement of the same faculty advisor, Dr. Harriott.
"Earlier this year, I was looking for a research topic for my honours project and I had received a grant for research," says Emily – who was recently awarded the 2021 Jeanne Sauvé Research Assistantship for Women in Science. "DIBs seemed the most appealing area of study to me – it's very interesting and, like Fraser said, it's one of the longest standing mysteries in astrophysics."
Fraser and Emily, who continue to reside together at home with their parents during their time in university, seem to enjoy the opposite of sibling rivalry – sometimes discussing and troubleshooting elements of their research at the supper table, recognizing one another's strengths and seeking out ways to support each other. One thing is certain – they've both caught the attention of faculty at MSVU.
"Fraser is the only student I've seen – and I've been at MSVU for 36 years – who has a perfect transcript. In every course, he received an A+ grade. Emily is also an outstanding student and really ran with this project," says Dr. Harriott, adding that, in addition to her studies at MSVU and ongoing research, Emily served as a member of the naval reserves and was part of a general duties platoon on standby to assist the regular force on COVID-related operations at the beginning of the pandemic.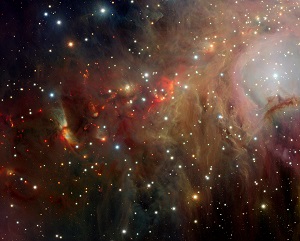 Dr. Matta says that during his undergraduate degree Fraser operated at the level of a PhD-trained scientist – something that was evident in the quality of the research paper on DIBs that he recently had accepted by for publication in a prominent academic journal.
"Fraser's paper appears in the Monthly Notices of the Royal Astronomical Society – one of the two or three most prestigious astronomy journals in the world. It has a long history and only the best of the best publish there," he says.
He adds that Emily has established her own program of research in DIBs that is quite separate from her brother's, noting that – as was the case with Fraser's work, "We are again running after her trying to catch up all of the time."
As for what comes next, the mystery of DIBs persists and both siblings intend to continue to try to solve more of the puzzle. Fraser's recently published research paper relies on an existing catalogue – The Apache Point Observatory Catalog of Optical Diffuse Interstellar Bands. And, while their work to date hasn't solved the broader mystery of DIBs, their efforts are propelling the field forward. In the months ahead, Emily intends to work toward publishing her own research paper on DIBs as she completes her undergraduate degree at MSVU. Meanwhile, Fraser has just entered graduate studies and anticipates focusing at least partly on DIBs in his research.
And, while the outcome of their upcoming research remains to be seen, it seems like Fraser and Emily might just be the right team to solve this longstanding astronomical puzzle.