(Halifax, NS) More than 340 students joined the Mount Saint Vincent University (the Mount) Alumnae community during two separate ceremonies yesterday. In addition, Sheila Fraser, former Auditor General of Canada, and Mary Walsh, one of Canada's foremost comedic icons, were awarded honorary Doctor of Humane Letters degrees.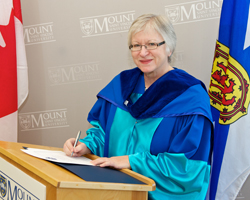 Sheila Fraser, the first woman to hold the office of Auditor General in Canada, addressed the morning ceremony graduates, "Even if your heart is set on a direction, welcome the unexpected – don't limit yourself to opportunities that come your way. Always stand up for what you believe to be right – you may find yourself in a situation where speaking the truth leads to criticism. I urge you to muster your courage and always stay true to who you are. And finally – always remember to have fun."
The afternoon ceremony brought colourful comedy to a formal setting as Mary Walsh grabbed the podium and exclaimed, "Now – I beg you, please remain calm. Do not be afraid." Aside from the laughter that rang through the auditorium,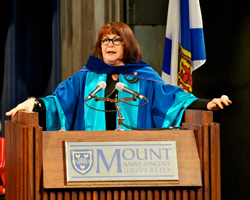 Walsh's words gave sobering reference to issues in gender and societal gaps. "Women get a day," she noted. "For the love of God – nuts get a whole month!" referring to April having been National Pecan Month by a US-based association.
In addition to the awarding of diplomas, certificates and degrees, a number of awards and senate medals were given out to students who graduated with distinction and the highest aggregate in their respective program.
Brianna MacDonald, a graduate of the Mount's Bachelor of Business Administration (Honours) program from Bedford, NS, addressed the crowd as the morning ceremony valedictorian. Brianna was also awarded the President's Prize, an award given to a graduate whose generosity, energy and commitment enriches the University. The afternoon ceremony valedictorian, also of Bedford, NS, was Erin Careless. Erin graduated with a Master of Arts in Education.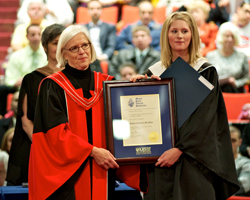 In the afternoon ceremony, two graduates from Truro, NS, took home major prizes:
– President's Prize: Jennifer Louise Berghuis (Master of Education – Literacy Education)
– Graduate Thesis Award (shown at left with Vice President Academic, Dr. Elizabeth Church): Rebecca Catherine MacNevin (Master of Arts in School Psychology)
Additional prizes included membership to Kappa Gamma Pi, the National Catholic College Graduate Honor Society. The award is based on scholarship, leadership and service. Members are selected for recognition of past accompliments and in anticipation of future service. Winners included:
– Undergraduate Level:Lia Scanlan, Bachelor of Public Relations (Cole Harbour, NS)
– Graduate Level:Sonya Horsburgh, Master of Arts in Public Relations (Tantallon, NS) – Sonya is also the Co-operative Education Manager at the Mount.
About Mount Saint Vincent University
Recognized as a leader in flexible education, applied research, and a personalized approach to education, Mount Saint Vincent University has been nationally recognized among undergraduate universities in Canada for our success in Social Sciences and Humanities Research Council grants and for having one of the lowest student-to-professor ratios. The Mount is committed to providing the best university experience for all members of our community and to developing thoughtful, engaged citizens who make a positive impact on their world. For additional information about the University, visit msvu.ca.
-30-
For more information, contact:
Kelly Gallant
Public Affairs Office
Tel: (902) 457-6339
Cell: (902) 449-8708