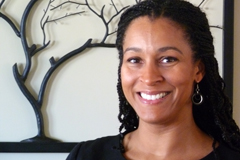 Jada Moshett-Crawford thrives on that 'aha moment'; that moment when her teaching or math coaching seems to flip a switch in her students' minds. Jada, originally from Victoria, British Columbia, moved to Halifax when she was just two years old. Jada, a mother of two young boys, has a knack for teaching and coaching, and has a passion for teaching students with special needs. This remarkable Mount graduate has left her mark both in academia and in the community.
Jada has always sought to achieve more. After completing a Bachelor of Science degree at Dalhousie University, Jada spent a few years in the workforce before deciding to enrol at the Mount. During her undergraduate years, Jada served as the Vice President of the Education Society and was also a member of the Mount's Orientation Committee.
In 2000, Jada graduated with a Bachelor of Education degree from the Mount. Since then, she has gone on to serve on numerous committees including: the evaluation policy revision committee, math leadership committee, she has been a mentor for student teachers from the Mount and Acadia University, and she has prepared curriculum and trained tutors for the cultural and academic enrichment program with the African Canadian Services Division. Jada has served as a school Race Relations, Cross-Cultural Understanding, and Human Rights officer.
Jada has experienced teaching since her first Mount graduation – mostly junior-high aged young adults, and provided math coaching to her students. In this environment, Jada discovered a passion for working with students who had special needs. Jada realized that there was a need for specialized educators among this group of students. With a future career in a resources or learning centre in mind, Jada made the decision to come back to the Mount as a Master of Education student, focusing on learners with diverse needs and exceptionalities.
Jada had always believed in inclusion, and has decided to dedicate her teaching career to developing and implementing lessons that meet the diverse needs of individual learners in her classroom. Through the diversification of activities, conducting a variety of assessments and engaging students in class discussion are just a few of the instructional strategies Jada has used to instil learning among her students. Jada's passion for teaching is evident in her description of the learning environment she seeks to create. When asked what keeps her motivated, she notes, "The students inspire me. It's so rewarding to help a struggling student finally break through."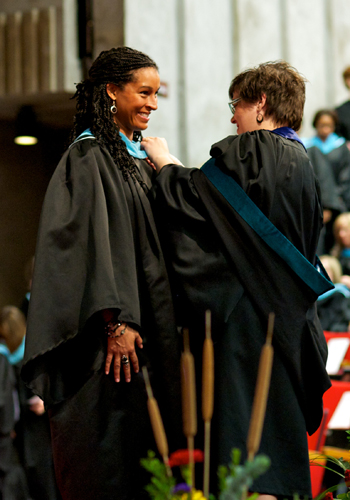 When reflecting on her time at the Mount, Jada notes her experiences have been positive and memorable. Above all, though, she favours the time she spent with her cohort. "The fourteen of us became a close-knit group and hit it off almost immediately," she says. "It was never competitive with us. We were always so supportive and helped each other so much."
On the topic of convocation, Jada was looking forward to the day with her group, "Two years ago, we all began together. So we knew that we had to see this, our amazing journey, right through to the end."
Jada, who is currently a Math Coach with the Halifax Regional School Board, is working to support classroom, resource and learning centre teachers as they aim to improve student success in Mathematics.
---
Shown at right: Jada accepts a pin from the Mount Saint Vincent Alumnae Association after receiving her Master of Education degree..
---
And for those who work with Jada, her desire to know each and every student's particular learning style, strengths and needs has not gone unnoticed. One of Jada's colleagues notes, "In the time I have known Jada, I have come to admire her for her strong work ethic, commitment, leadership and interpersonal skills. Jada gives 110 per cent to whatever she's asked to do. She is truly dedicated to her profession and is always keen to learn new things."
Jada's personal goal and passion to explore instruction in all its forms had led to her facilitating professional development sessions with her peers. "This is my fourth year as a coach," she notes. "I absolutely love it. I'm getting a chance to work in a number of different schools and I'm learning a lot from the teachers around me. It's really 'give and take.'" Jada plans to continue teaching and coaching, and notes "I want to take what I've learned over these last few years and incorporate it into my classes, my colleagues, and my life."