For more than 35 years, MSVU has offered courses at a distance, including in its Bachelor of Business Administration and Bachelor of Tourism and Hospitality Management programs. For years, students from around the world have benefitted from the expertise of MSVU Business & Tourism faculty in such areas as Marketing, Management, Strategic Human Resources Management, Non-Profit Leadership, and Tourism and Hospitality Management – without ever having to leave home. In fact, students can take an entire Business or Tourism degree online at MSVU.
Now, in the midst of the COVID-19 pandemic, many universities – MSVU included – have made the decision to move the fall 2020 semester online. Dr. Peter Mombourquette, Chair of the University's Business and Tourism Department, believes that this is a great opportunity to showcase a style of teaching in which his MSVU colleagues have been excelling for decades.
"We've been doing this for such a long time that our courses are exceptionally good," said Peter. "For years, MSVU Business and Tourism students have been learning and connecting with peers online, and engaging in creative online assignments in such areas as crowdfunding, franchising, and social media."
Online learning in Business & Tourism
This fall, MSVU Business and Tourism students will be able to access their classes, labs, and even extracurriculars online.
Similar to in-person classes, there are a variety of teaching methods used in online classes. A unique benefit of the online classroom: students are often able to replay lectures because sessions are recorded. For synchronous courses (meaning that they occur at a specific day and time during which the class gathers online as a group), students are also able to ask their professors questions and contribute to class discussion in real-time. Professors will also hold regular "remote" office hours for students requiring extra help. "Some of our faculty have taught upwards of 100 courses online, and have done so in both synchronous and asynchronous* environments," said Peter. [*Asynchronous courses are self-paced.]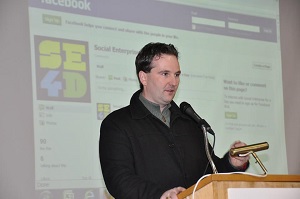 Extra-curricular opportunities going virtual
A highlight of the Business and Tourism program at MSVU is the Learning Passport Program (LP). The LP kicks the MSVU Business & Tourism student experience up a notch, providing students with crucial, hands-on experience and opportunity to connect with professionals in their respective fields. It includes an array of events, such as career week panels, a Learners and Leaders conference, and much more.
Previously, many of the LP events were limited to participants (students and presenters alike) in Halifax and surrounding areas. As these additional experiences move online this semester, MSVU Business and Tourism students will be able to connect with business professionals from across the country and beyond.
"I think, in a sense, it could even be better because, due to the fact that it's going to be virtual, it opens up North America, if not the world, for speakers. And we have been talking to some interesting speakers for this year," said Peter.
International students studying at home will also have to ability to participate in the LP as the sessions are all recorded for playback. The department also boasts a helpful YouTube channel that features hundreds of videos available to students no matter their location.
Taking industry tours online too
In the past, MSVU Business and Tourism students have benefitted from an excellent immersive tour program that connects students with Halifax-area entrepreneurs and their businesses and provides a chance to see first-hand how their industries work.
The program is excited to report that those same experiences will be coming to students this year –virtually. This will include students linking up with business owners online and through the delivery of a product package to students.
One of these "tours" may include connecting with a local restaurant, for example. "What we're going to do is provide the students with some food from the restaurant so that as they're listening to the entrepreneur talk about opening a restaurant – including the pros and cons, business planning, and raising money – they'll also be tasting and experiencing the product."
Just because the experience is happening at a distance, doesn't mean it will be any less meaningful.