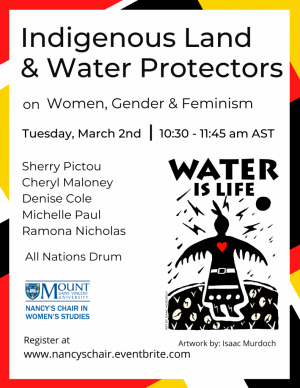 On Tuesday, March 2nd, 2021, the Nancy's Chair in Women's Studies at Mount Saint Vincent University, will host a discussion panel on Indigenous Land & Water Protectors on Women, Gender & Feminism.
This event is one of two being hosted by the Nancy's Chair in Women's Studies in the lead up to International Women's Day on March 8. The other will feature a discussion panel on Black Lives Matter! Racial Justice Activists on Women, Gender and Feminism [learn more].
WHEN: 10:30 – 11:45 a.m. on Tuesday, March 2nd, 2021.
WHERE: The event will be broadcast live on Microsoft Teams. Advance registration is required (a link to join the event will be emailed to registrants); anyone interested in attending can register on Eventbrite.
WHO: The Nancy's Chair at MSVU, Janet Conway, will be joined by moderator Dr. Sherry Pictou, Assistant Professor, Schulich School of Law, Faculty of Management, Marine & Environmental Law Institute, School of Public Administration at Dalhousie University, and guest speakers:
– Cheryl Maloney, Indigenous Women's Rights Advocate
– Denise Cole, Land protector and 2SLGBTQ+ advocate
– Michelle Paul, Mi'kmaw Treaty Rightsholder, water protector/land defender
– Dr. Ramona Nicholas, Curator of Wabanaki Way at the Fredericton Regional Museum
About the Nancy's Chair
The Nancy's Chair in Women's Studies (Nancy's Chair) was established at Mount Saint Vincent University in the mid-1980s. Endowed by well-known Toronto-based feminist and philanthropist Nancy Ruth, the Chair raises awareness of women's issues by bringing to campus distinguished scholars in women's studies and activists who have contributed to the advancement of women.
---

We're building stronger societies through community engagement. Learn more about this MSVU Strategic Plan Theme »