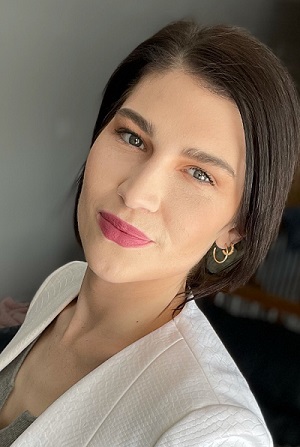 Each year, eight full-time undergraduate students in Atlantic Canada are chosen as recipients of the Frank H. Sobey Award for Excellence in Business Studies – with each receiving $30,000 to support their development as future business leaders. Megan Cook, a fourth year MSVU Bachelor of Business Administration student majoring in Management, is among the latest honorees. This year's winners were celebrated at an event this afternoon.
This is Megan's second time in university, after having attended Mount Allison for three years when she was younger and engaging in studies in both science and business. The loss of her father during that period changed the course of her education – and her life.
"During my second year, my dad passed away. I went back for my third year, but I did terrible – Cs and Ds. So, I moved out west to work for about five years. But my university education was always something I wanted to finish, so I eventually quit my job and drove back, and I've been at MSVU ever since," she says.
Now as she nears the completion of her degree, and with some time in the workforce already under her belt, Megan has a clear career path in mind.
"First and foremost, I want to gain management experience. I want to be ready to dive into an executive position when the opportunity comes. I'm well aware that might not come right away, but that's definitely something I see myself doing. I would love to work within the finance and management sector – within a corporation or firm to start to gain executive and management experience. My end goal would be a CFO position – probably with a small private firm. Eventually I want to take what I learn and apply it to my own business," she says.
As she moves toward that goal, she's supplementing all she's learned so far by becoming a business owner, working with guidance from the Centre for Entrepreneurship Education and Development's Futurpreneur program to create an app that will support future students.
"My business is in the very early stages and it's called Studentgizor," she says. "It's an organizational system for first-year students, specifically people with learning disabilities, a digital support service that converts their class outlines into a downloadable template within a communication system that prompts them to study and keeps them on track so they don't lose dates and they're not missing tests."
Megan says a combination of factors led her to create a business focused on individuals with learning differences – identifying the need through market research, her own experiences as a student, and her family's direct connection to disability.
"Although I don't necessarily have a learning disability, I have always struggled with learning things the traditional way. I need things either broken down step by step or given within real life context or I find it hard to understand some concepts. I have always empathized with those who learn differently," she says. "Even coming back as a mature student, I overlooked some of my outlines first semester and I actually missed a quiz and an assignment, and I was like, 'Okay, if I'm struggling there have to be other people who are also struggling to stay organized.' Also, my dad had a physical disability, so I guess the topic of disability has always had a soft spot in my heart and I've always wanted to help those who don't have support."
Megan adds that she has benefited from her mom's experience as a long-term, Halifax-based entrepreneur who worked in the accessibility field for many years, and the support she is providing in introducing her to key contacts and business planning and advising.
Not one to stay idle, Megan has also started a YouTube channel called Business Made Simple, for which she is planning and creating content that features both tips and information about her journey in business.
"Essentially, I'm highlighting my life experiences, and talking about taking the nontraditional route I've taken," she says. "I want to take complex business concepts and make them feel simple so people can feel confident with their money. I want to empower people in their financial decisions, whether they are short term or long-term."
Megan notes that her time at MSVU pushed her to try new things and helped her to spread her wings.
"My most memorable experience is interviewing Michael Hyatt during the virtual Fireside Chats with Professor Jeff McKinnon," she says. "Doing this pushed me completely out of my comfort zone and allowed me to obtain a connection to a successful entrepreneur. As a result of this event, he and I have plans to meet in 2022 to discuss business! I love networking and meeting people, so this means a lot."
Megan adds that being chosen to receive the Frank H. Sobey Award is extremely meaningful to her in ways that extend far beyond the monetary prize.
"This award has definitely given me confidence and grounded me, and it's made it all worth it," she says. "It's great recognition and it has confirmed that I was supposed to do this. It has made me confident in my field which is amazing."
She says that she believes everything that has happened along the way has come together to prepare her for where she is now in her life and that, in hindsight, she wouldn't be the person she is today without all she has learned up to this point.
"With my experience with my dad, I really was thrown off track for a while and it was hard – I felt very inadequate compared to everyone else. I felt people were judging me even though I was dealing with a tragedy. It took me a little bit to recover from that, but I came back, and I was just full of fire," she says. "I would have never gotten to this step if I wasn't thrown through that because I matured a lot and I gained a lot of experience which allows me to understand school concepts more easily. In hindsight, it all makes perfect sense."
Megan's internal fire burns bright when she talks about her firm belief that anyone can do anything they put their minds to – something she has learned through her personal experience.
"I really want people to understand that you can fail, and it doesn't mean anything," she says. "Growth does everything, confidence does everything. Just because you might not succeed the first time doesn't mean you shouldn't try again. You really can do anything you put your mind to. I feel very strongly about that – when you believe in yourself, great things can happen."
---

We're ensuring transformative teaching and learning. Learn more about this MSVU Strategic Plan Theme »