Dr. Tamara Franz-Odendaal, Professor of Biology and NSERC Atlantic Chair for Women in Science and Engineering at Mount Saint Vincent University, was named the recipient of the 2022 Professional of Distinction Award at the annual Discovery Awards held last night (November 23) in Halifax.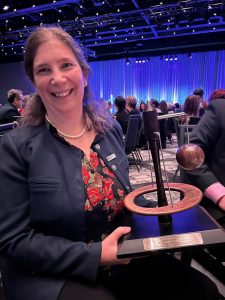 Hosted by the Halifax Discovery Centre, the awards celebrate "outstanding innovators whose game changing achievements in science and technology put Nova Scotia at the forefront of global innovation."
Dr. Franz-Odendaal has been described by peers as "one of the top researchers in Canada and internationally in the field of Ecological Evolutionary Developmental Biology," and with a research program that is "exemplary" and "widely recognized for its innovation." She has collaborated with researchers across Canada, as well as in Belgium, Germany, and the United States.
With her team in the Bone Development Lab at MSVU, and the support of the Natural Sciences and Engineering Research Council of Canada, Dr. Franz-Odendaal studies bone development across species, particularly the gene expression pathways that underlie the development of the skeleton. They study the genes that are responsible for bone and cartilage development by looking at the embryos of different animals.
"That provides us a lot of insight into how the human skeleton forms because a lot of human disorders recapitulate the developmental pathways that we see during embryonic development," said Dr. Franz-Odendaal. "If we really get a deep understanding of what happens in the embryo, it will help us understand the disorders and diseases that humans face related to the skeleton."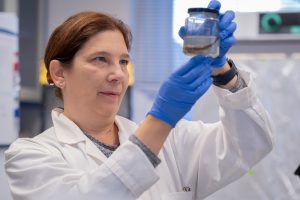 With support from the Lung Association of Nova Scotia and Research Nova Scotia, she has recently embarked on a study of tracheal development and signaling molecules, and their function in relation to lung disease. She is also the recent recipient of a grant from the Canadian Space Agency to study the mechanisms underlying microgravity-induced bone loss toward developing an effective prevention strategy to avoid bone loss in astronauts.
A second research interest of Dr. Franz-Odendaal's is equity and inclusion practices in science fields. As the NSERC Atlantic Chair for Women in Science and Engineering, she serves as a strong advocate for women in STEM and leads a program that seeks to empower girls to consider STEM careers and explore STEM-based opportunities, including hands-on girls-only science retreats, summer camps, and more.
Dr. Franz-Odendaal joined MSVU in 2006 and was promoted to Full Professor in 2015. She is the recipient of numerous awards including the MSVU Research Excellence Award (2015) and the American Association for Anatomy's Young Investigators Award (2013). In 2020, she was named a Fellow of the American Association for Anatomy – an honour bestowed on the top 10% of all eligible members in recognition of excellence in science and for contributions to the anatomical sciences.
Congratulations on this well-deserved recognition, Dr. Franz-Odendaal!