By Olivia Banks, MSVU BPR student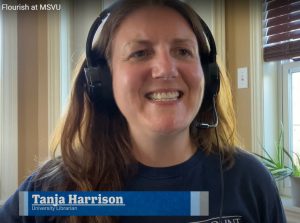 Tanja Harrison, University Librarian at Mount Saint Vincent University, has been named the 2021 winner of the Atlantic Provinces Library Association (APLA) Merit Award. The award was presented at the annual APLA conference, held entirely online this week for the first time. The last time a recipient from MSVU won was in 2001.
The award honours individuals who have made outstanding contributions to library services in the Atlantic Provinces, including to library leadership, library literature, and the development, application, and utilization of library systems.
Before joining MSVU in 2012, Tanja was the Director of the NSCAD University Library, an academic librarian and instructor at Acadia University, and a librarian and adjunct faculty member at Dalhousie. Her current research interests include developing a critical history of early library education in Canada with a focus on the Maritime Provinces. She holds a BA in classics, English, German, and art history from Bishop's University, an MLIS from Dalhousie University, and is a student enrolled in the Nova Scotia Inter-University Doctoral Program in Educational Studies.
Colleagues nominated Tanja for the APLA merit award from both within and outside the MSVU Library. As one of her nominators said, "[Tanja] works tirelessly to support and advocate for libraries in all forms. Her enthusiasm is contagious; no project is too small to be done well, nor too large to manage through careful thought and planning."
Her nominators also noted her work with Indigenous communities. "Tanja is proud of the work all libraries do to advance access to information, advocate for literacy, and make space for learners – especially as it relates to Indigenous, nontraditional, marginalized, or vulnerable groups."
Her MSVU colleagues praised the hard work and leadership skills she brings to the office every day. "Tanja is our leader in our library, but her impact is felt throughout the library community in which we all live and work. Tanja is not a sit-in-her-office director; she is a roll-up-her-sleeves University Librarian who empowers her staff to be involved with our community on campus and more broadly. Through her example, and with her support, we all realize that we can do more."
As she accepted her award at the conference, Tanja spoke of the importance of history in library education and how the voices of many have been silenced throughout history. She aims to advance efforts focused on equity, diversity, truth, and reconciliation.
Noted Tanja, "We must ensure that this effort places the voices and needs of Indigenous communities and other under-represented groups at the centre; it's important for everyone else – like me — to listen, and to act as an ally."
---

We're advancing research, scholarly work and professional activity. Learn more about this MSVU Strategic Plan Theme »