Annual social enterprise workshop pivots online with community partner
MSVU's Business & Tourism Department is well-known for its robust extracurricular programming. When the pandemic hit, they quickly pivoted online, moving not just courses, but also a long list of special events. Earlier this year, they took their annual Learners and Leaders conference online, and this week they will connect students with community in a workshop on social entrepreneurship.
Dubbed Social Enterprise for a Day (or SE4D), this annual workshop gives MSVU students in the Business Administration and Tourism and Hospitality Management programs a unique opportunity to learn about social enterprise while also problem-solving for local nonprofits.

This year, students will get an introduction to social enterprise through a panel discussion featuring local experts. After that, students will work in groups to apply their expertise and creativity to help address a challenge facing Big Brothers, Big Sisters (Colchester). The event takes place on Thursday, March 4, 2021.
Panel participants will include: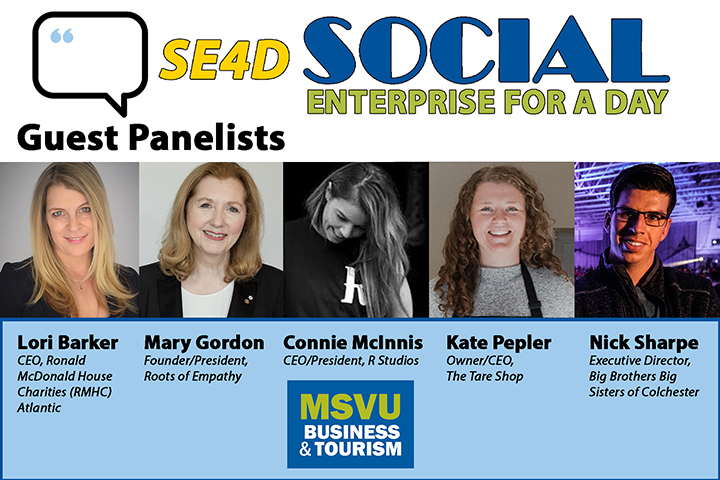 Social Enterprise for a day is a program unique to MSVU. According to Business and Tourism Department Chair Dr. Peter Mombourquette, MSVU is currently the only university in Canada that holds such an event. Given the University's long-standing and commitment to advancing social issues, the conference is highly anticipated each year. It's also made possible with the support of sponsors like the Nova Scotia government, the Centre for Women in Business, and the Centre for Entrepreneurship Education and Development.
"While we've certainly missed working with our students in-person, we've had a great year online this year and even stronger turn-out for our extra-curricular events," said Peter. "In fact, we were able to offer our students even more extra learning opportunities this past year, including connecting them with sector leaders from across the country."
---

We're building stronger societies through community engagement. Learn more about this MSVU Strategic Plan Theme »