Sample drawn from special 6,000-volume collection of Canadian children's books hosted at the Mount
Celebrations of literacy and the gift of reading are the themes of National Library Month this October. At the Mount, new life is being breathed into a very special collection of books that can offer the gift of reading to anyone interested in browsing its shelves.
The Canadian Children's Book Centre (CCBC) is based in Toronto, where a reference collection of almost every Canadian children's book published since 1976 is housed. In November 2010, the Mount became the Atlantic regional repository's new home. There are only three other such collections in the country (Universities of BC, Alberta, and Manitoba), making the Mount the only CCBC collection east of Toronto. Since its arrival, the collection has continued to grow to over 6,000 volumes, with new and innovative uses within the Mount community.
Honours student putting the collection to use in thesis research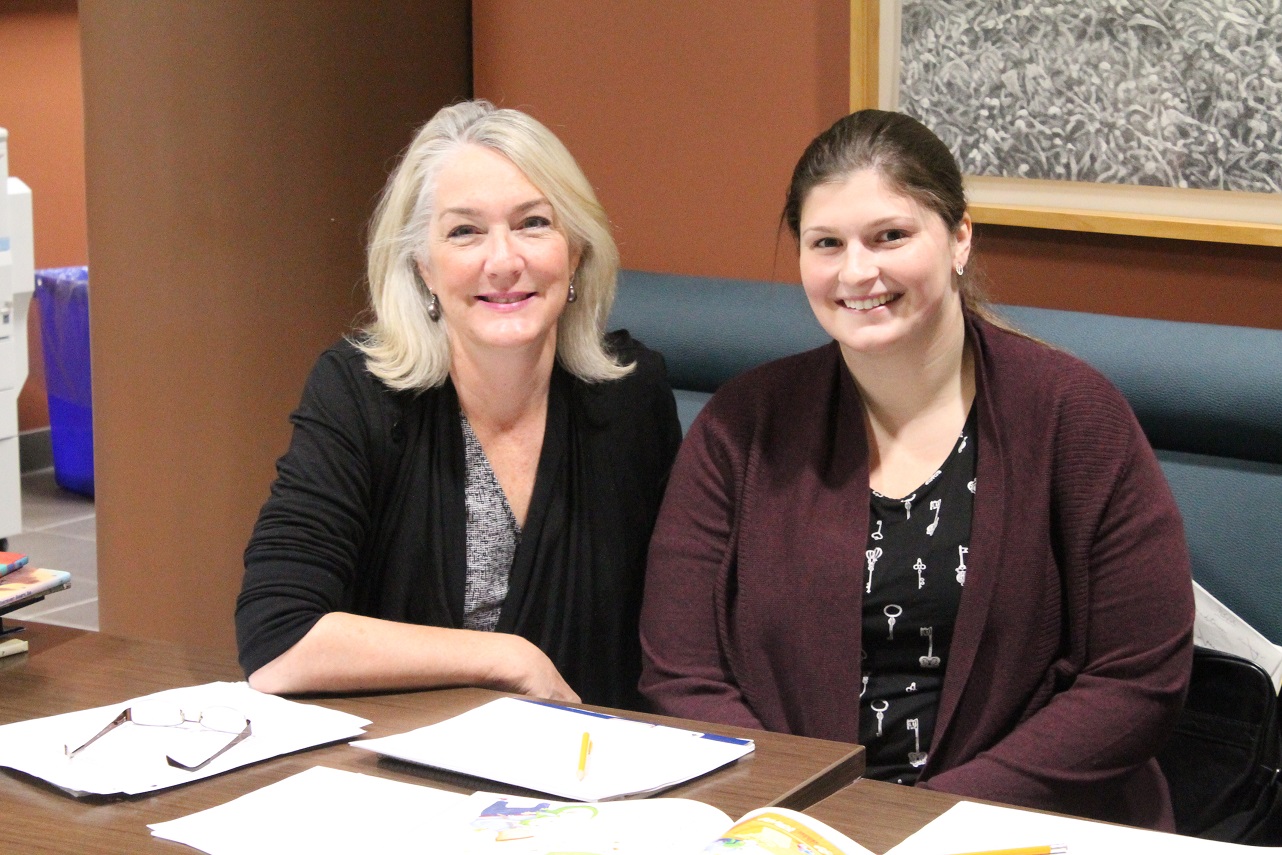 Self-proclaimed animal lovers, Dr. Turner (left), of the Child and Youth Study Department and her student Michelle Pegg (right) are studying a sample of over 200 books from the CCBC collection as a part of Michelle's honours' thesis – a replication of a previous study in the United States that looks at the representation of animals and the environment in children's literature. "So far, we have found that there have been representations of animals in almost every book," Michelle says. "This has been surprising and very different from the results of the original American study."
"It highlights a different perspective in Canada when it comes to animals and the environment," adds Dr. Turner. Having started their literature review this past summer, the pair are a common sight among their children's books near the Library's entrance. "It is great publicity for the collection," says Dr. Turner. "We do our work right in the front part of the library where people can see and ask what we're doing."
Dr. Turner and Michelle hope to conclude their data collection this December, but the collection will continue to find uses within Dr. Turner's courses, and in the pleasure of its readers as the joy of literacy continues to spread throughout the campus and community.
Explore the collection
This October, consider sharing the gift of reading with a child in your family – stop by the Mount library to share a story from the Canadian Children's Book Centre collection. Comfy chairs are waiting for young readers. Click here to learn more about the Mount library.