Connie Jing Yu named 2016 Atlantic region and national award winner
Connie Jing Nan Yu came to Halifax from Scarborough, Ontario with high hopes, but few ties. She'd heard great things about the city, and she yearned for a new experience, so when she was seeking a location for her graduate studies she decided that the Mount's Master of Science in Applied Human Nutrition (AHN) program was the perfect opportunity for her to go for it.

And go for it she did. A little over two years (and much hard work) later, and Connie's been bestowed the Canadian Foundation for Dietetic Research's highest honour for nutrition students/interns – the Morgan Medal. Connie was named not just the 2016 Atlantic recipient, but also the overall national winner.


An exceptional student researcher
Awarded annually at the Dietitians of Canada's conference (this year in Winnipeg), the award celebrates exceptional student achievement, with an emphasis on research. In Connie's case, the award acknowledges her exceptional achievement in research as part of her work on her graduate thesis which, she explains, "explored how pureed pulses (peas and beans) affect appetite, food intake and gastrointestinal comfort among nine to 14-year-olds."

The Canadian Foundation for Dietetic Research noted that Connie's study "demonstrated that cooked, pureed pulses added to pasta and sauce led to suppression of short-term food intake, had acceptable palatability and resulted in increased fibre intake. This research presented an effective and practical approach in improving nutrient intake and reducing the serving size of [starchy] food…in children and adolescents." (Learn more about Connie's research here.)

The Morgan Awards were created by the Canadian Foundation for Dietetic Research "in honour and in memory of Susan Morgan, a former CFDR manager and dietitian who was an ardent supporter of the dietetic profession, of practice-based research and of mentoring novice researchers. The program recognizes a passion for research and dedication to the profession."


Now new professional
As part of her studies at the Mount, Connie also completed three dietetic internships – one at Saint Mary's University, another at the IWK Health Centre and the third in Newfoundland with Western Health (the health authority serving NL's west coast).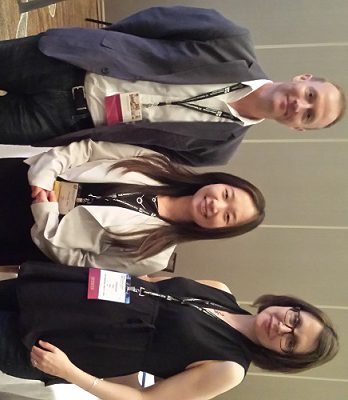 Connie has also previously been recognized as a Scotia Scholar by the Nova Scotia Health Research Foundation and received student research funding from the Canadian Institutes of Health Research.

In May of 2016, Connie crossed the stage at the Mount's spring convocation, then returned parchment in hand to her home province of Ontario. Not only did she leave Halifax with new knowledge and experience, but she left with new ties too. "I met so many people at the Mount, in my program and through my internships," she notes.

Asked if she misses the east coast, Connie replies, "I would love to move back some day, if I could find the right job. I figured I'd get a few years of experience under my belt and then see what opportunities I might find to bring me back to Halifax."

As she starts her career as a registered dietitian in independent consulting in Toronto, the countdown to her hopeful return is on!

(Photo 1: Connie presents her research at the 2016 Dietitians of Canada conference in Winnipeg; photo 2: Connie at the same conference with Greg Sarney, left, Executive Director of the Canadian Foundation for Dietetic Research, and Dr. Shannan Grant, right, Assistant Professor of Applied Human Nutrition at the Mount)