Chris Gallant believes it is important to build good players, and also good people
For Mount student Chris Gallant, creativity takes many forms. A senior Mount soccer player and newly self-discovered spoken word artist, Chris had never really thought of himself as a creative person. But during his time at the Mount, that view was challenged.

Athlete vs. Artist
Over his five years as a student and athlete, Chris has won upwards of 25 different awards for his positive contribution to the Mount Mystics, the University itself and community. This year, he received the Coaches Award and Varsity prize at the A. Garnet Brown Student Awards Night Gala, both in appreciation of his leadership and commitment to the Mount soccer team.

Chris has also been consistently named an All-Star player and CCAA Academic Canadian, recognizing his talent on the field and ability in the classroom. He has twice been named Athlete of The Year and Most Valuable Player, but at this year's gala, the focus shifted from his athleticism to his artistry.
Watch Chris' performance of "Rise Up" at the 2016 Athletics gala »
A creative leap
Despite having a strong appreciation for the written word, Chris didn't know how much he liked to write until he took a few creative writing classes at the Mount. He then took to the stage at a University speakeasy, a public reading of original poetry and prose by students, to perform one of his first pieces.

Since then, Chris has performed as a spoken word artist multiple times, both in class and at various year-end award ceremonies like the A. Garnet Brown Gala. The rush of performing, he says, can only be matched by the adrenaline felt on the field.
---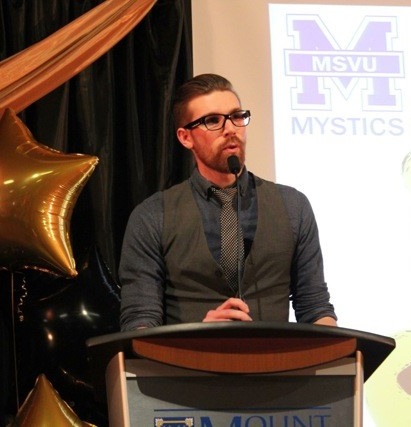 "I have always grown up playing in big moments, big positions, big games. This is it. Performing spoken word pieces takes my greatest strengths in speaking, performing and writing and puts it all together."
– Chris Gallant
---

Chris often writes about his life or the people in it, but most recently, he wrote and performed two pieces from the perspective of a senior soccer player. One explored the "grind" of a student athlete, the temptation to take the easy road and the perseverance needed to abstain. The other thanked the coaches and the Mount for the lessons they taught and strengths they encouraged.

The pursuit of another passion
Chris is a soon-to-be graduate of the Bachelor of Public Relations program and has already made plans to pursue a Bachelor of Education degree at the Mount. The decision to become an English teacher was born out of a revelation he had during his third co-operative education work term.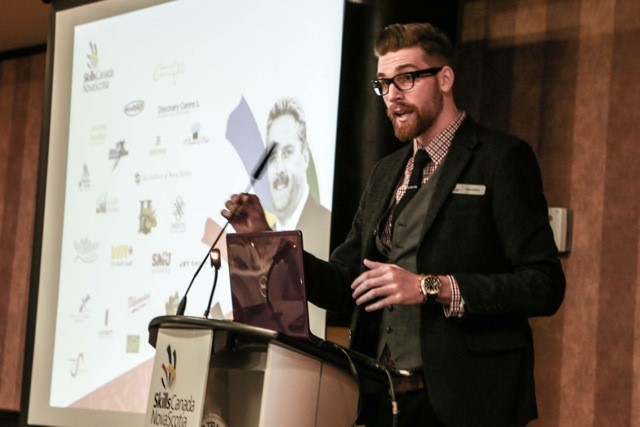 "I hadn't really made the connection that I wanted to teach until my work term with Skills Canada," Chris says. "After giving over 120 presentations to kids in grades 9-12, I realized this is what makes me happy."

His two goals, he says, are to make a difference in the world of English instruction and to help students reach their full potential. Chris feels the current curriculum lacks an emphasis on creative writing and oral presentation skills – his inherent strengths. With his long history of coaching community soccer, he also believes he has the right skills to support students in the self-discovery process.

"You can teach the basics of soccer, improve a player's skills, but you also have to pay attention to who they are, what they respond to and where they are headed," Chris says. "That is what I am most excited for – it is teaching English, but also helping develop the character of kids."

With a passion for character-building moments and a unique creative approach, it is likely Chris will help many others reach their potential.
---
Congratulations to all the award winners at the 2016 A. Garnet Brown Awards Night Gala. View the full list of recipients »