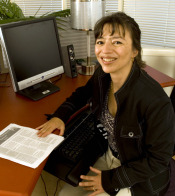 March 5, 2010, Halifax – Mount professor Dr. Patricia Williams, recognized for her long standing track record in participatory action research on food security issues in Nova Scotia, has recently been awarded a $1 million Community-University Research Alliances (CURA) grant for her "Activating Policy Change for Community Food Security" research program.
Williams, also the Canada Research Chair in Food Security and Policy Change and the Director of the Participatory Action Research and Training Center on Food Security at the Mount, has been working collaboratively with community, government and academic partners to address the issue of food security for 10 years. Community food security means that everyone in communities can obtain a safe, culturally acceptable, nutritionally adequate diet through a sustainable food system that maximizes community self-reliance, and social justice.
 "This additional funding will allow our team to continue with research that helps inform policy, strengthen communities and make a lasting, positive impact on our food system," says Williams. "Ultimately, there needs to be social and systems change, so we can help provide food for future generations and ensure we have a healthy population," she said.
With this federal grant, Williams, in partnership with NS Food Security Network (NSFSN) and key community, government and academic partners, will continue to work closely with community members who have first-hand experience with food insecurity. Food insecurity is a reality for many households in Nova Scotia.  A 2004 Canadian Community Health Survey study showed that Nova Scotia has the highest rate of income related food insecurity in the country. Almost 15 per cent of all Nova Scotia households reported either moderate or severe income-related food insecurity, compared to just over nine per cent nationally.
"This is an issue that touches all Nova Scotians, affecting the social, cultural, and economic development and health of communities; it is an issue that is relevant to all levels of government, all sectors and all citizens in Canada and globally," says Williams.   "Although there has been progress in changing some policies that impact food security, there is still much work to do. That's why we are committed to conducting research that truly makes a difference. We want to help make a lasting change."
"Dr. Williams' work exemplifies the type of research being conducted by faculty at the Mount," says Fred Harrington, Interim Associate Vice-President, Research and Academic.  "Her research is timely, focuses on social justice and aims to better the lives of people living in our communities."
Williams' research also provides a learning opportunity for students at the Mount.  Over the next five years of the research program, at least 10 paid and 50 other students in training will experience mentorship and learning opportunities through this grant.
 "It is such a valuable opportunity for students," says Williams.  "They are able to gain hands-on experience in their field of study as they work on projects that could very well bring changes that will affect people in their own communities." 

About Mount Saint Vincent University
Recognized as a leader in flexible education, applied research, and a personalized approach to education, Mount Saint Vincent University is nationally recognized among undergraduate universities in Canada for our success in Social Sciences and Humanities Research Council grants and for having one of the lowest student-to-professor ratios. The Mount is committed to providing the best university experience for all members of our community and to developing thoughtful, engaged citizens who make a positive impact on their world. For additional information about the University, visit msvu.ca.

-30-
For more information:
Akiko Lovett
Mount Public Affairs
Tel: (902) 457-6439
Cell: (902) 441-0505