Q&A with student research award winner Rebecca Redden
Mount History (Honours) student Rebecca Redden was recently named one of four winners from across Canada of the Hannah Summer Studentship. The award, valued at $5,500, is for undergraduate students doing research in the history of medicine. It offers students an opportunity to study and learn the techniques of historical research and encourages future serious study of medical history. With this support, Rebecca will break ground on research regarding "The impact of smallpox on the Mi'kmaq of Nova Scotia in the 19th century." The grant is awarded by the Associated Medical Services and the Canadian Society for the History of Medicine.

Meet Rebecca and learn about her twisty path to a new passion – history!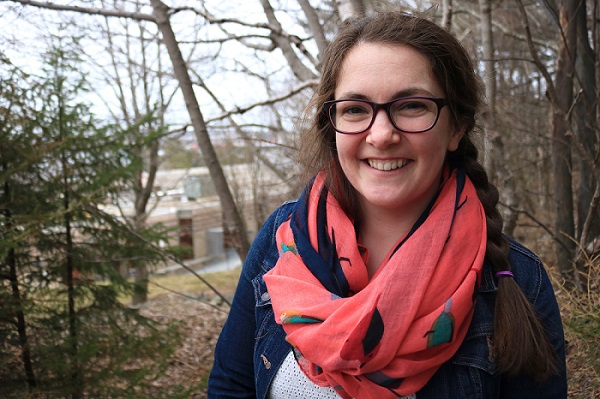 Hometown: Iona, Cape Breton
Current city/town: Halifax
Program name: BA (Honours) in History
Year of study: This is tricky as I'm a transfer student. I just finished my second year at the Mount so I'll go with that.
High school attended: Rankin Memorial High School
Previous universities/colleges attended: Cape Breton University and Nova Scotia Community College, Marconi Campus

Q. Why did you choose to study History at the Mount?
A. I came to the Mount as a transfer student from NSCC, into the Child and Youth Study program. I needed a history credit and I found myself in Dr. Jonathan Roberts' courses, "History of Food" and "Plagues and Peoples: A world history of epidemics." These courses sparked my interest in history. A combination of Dr. Roberts' guidance, interest in his course "Plagues and Peoples", and the inspiration of a fellow history student who has since gone on to graduate school, easily convinced me to change my degree.

Q. What area of History is of greatest interest to you?
A. I am interested in history about medicine, healing, diseases, and epidemics and western and non-western perceptions of both. I am surprised to be focusing on Nova Scotia or Atlantic Canadian history, but I feel there is an important history of Mi'kmaw health care experiences.
Q. What do you like most about your Mount studies/program?
A. The professors in the History Department are absolutely amazing!! I credit their support and guidance as part of my success. The History Society is great as well!
Q. Who are your academic and research mentors (either at the Mount or beyond)?
A. Oh this is hard! So many!
Dr. Jonathan Roberts at the Mount
Dr. Martha Walls at the Mount
Dr. Adriana Benzaquen at the Mount
Dr. Leslie Baker, part-time faculty at the Mount
Blair Hill, NSCC
Devan McNeill, University of Lethbridge
Dr. Allan Marble, historian (particularly of smallpox in NS)
Q. Tell us about research you've been involved in as part of your studies.
A. I have spent many hours at the Nova Scotia Public Archives! One great thing about researching local history is the abundance of primary sources to which I have access. I explored the Public Archives website for additional material, as well as databases through the Mount. Dr. Martha Walls suggested and provided valuable sources and great direction. I chatted with Allan Marble for some guidance as well.
---
"No scholars have explored this aspect of Mi'kmaw and colonial history [the impact of smallpox on the Mi'kmaq of NS in the 19th century], so my work will be breaking new ground."
---
Q. Congratulations on your Hannah Summer Studentship! Can you tell us what the award will enable you to study and when.
A. Thank you! It is pretty exciting! This award will allow me to devote my summer to research and writing. The title of my project is "The Impact of Smallpox on the Mi'kmaq of Nova Scotia in the 19th Century." I'll do the bulk of my research at the Public Archives of Nova Scotia, and also plan to explore the holdings at the Beaton Institute Archives at Cape Breton University. I'll read a variety of secondary sources as well. This will also be a great foundation for my Honours thesis which I will be writing next year with the supervision of Assistant Professor Dr. Martha Walls.
Q. Why is this research important?
A. This research shows the impact of disease and epidemics, specifically on the Mi'kmaq in Nova Scotia. Health and access to (or lack thereof) medical treatment are important aspects of the colonial experiences of First Nations people – both as they felt the burden of new disease and as they responded with treatment that drew on traditional and western medicine. In the 19th century (the era I am exploring), Mi'kmaw people were widely regarded as a "dying race." This label shaped how the Nova Scotia colonial government officials responded to them, but also reflected the ways in which they suffered from, and responded to, disease – especially the dreaded smallpox. No scholars have explored this aspect of Mi'kmaw and colonial history, so my work will be breaking new ground.
Q. Where do you see yourself in 10 years?
A. This is a tough question to answer because things change so much. If you told me January of last year that I was going to change my degree to History, and that I would WANT to research and write, I would have laughed at you. I see myself having finished my Master's degree and doing something related to the history of medicine.
Q. Are you involved in any extra-curricular activities, on campus or off (including work)? If so, please describe.
A. I've been volunteering at the Mount Archives with Lindsey MacCallum, since the fall. There were various projects I was working on such as inventory and deaccessioning. I am currently working on a project doing some research for Dr. Heidi MacDonald from the University of Lethbridge. She is writing an article on Dr. Catherine Wallace, a former President of the Mount. I am doing some research in our archives at the Mount for her.
Q. What is one piece of advice you'd give a student on the cusp of starting their university studies?
A. Can I give three pieces of advice? I'd tell them to take their time and not rush their degrees. Be open to change, new possibilities and new opportunities. And lastly, treat your studies as being as important as other types of work you might find yourself doing. I feel that while I am in school, my studies are my job.
---
"The professors in the History Department are absolutely amazing! I credit their support and guidance as part of my success."
---
Q. Favourite place or space on campus?
A. You're getting me to give away my secret spots! For studying: The quiet section(s) in the library, and McCain has little nooks on the 3rd and 4th floors that I love. Outside: the trail through the woods and the chairs in front of Evaristus offer a pretty great view to relax. Vinnies is great to grab a cider and nachos to wind down.
Q. Favourite meal on campus?
A. Pakora from McCain café.
Q. Is there a particular course, book, experience or event would you recommend to others? Why?
A. I always recommend the "Plagues and Peoples" course because it is fantastic! For experiences, get involved with extra-curricular activities on campus if possible. It is a great way to meet people. There are many volunteer opportunities and societies to join on campus.
Q. What class, professor, project or learning activity has held the most meaning for you? Why?
A. Without a doubt, "Plagues and Peoples" with Assistant Professor Dr. Jonathan Roberts. I realized my love for history of medicine, epidemics and diseases and have since changed my degree. My research paper for that course focused on smallpox in Halifax in 1775-1777 and I was lucky enough to have a chance meeting with an author from Halifax, Allan Marble, at the Public Archives. Allan Marble is an inspiration for me as he wrote books about smallpox in Nova Scotia. That research paper inspired my honours thesis, and to apply for the Hannah Summer Studentship. It seems like everything is falling into place and it finally feels right!