Graduates urged to be compassionate
On May 16 and 17, more than 620 students from 41 countries graduated from Mount Saint Vincent University with a wide range of degrees in Arts, Science, Education, and professional programs.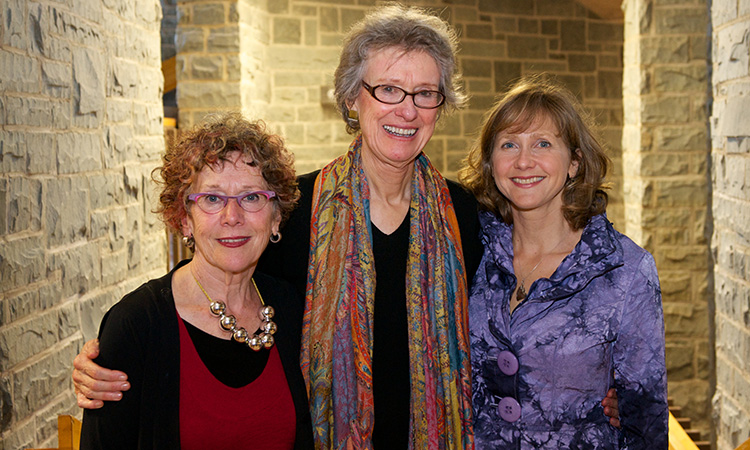 The Mount bestowed honorary degrees on three distinguished leaders in fine arts, sociology and women's rights (Shown at left): Poet Lorna Crozier, Sociologist Arlie Hochschild, and Acadian Soprano Suzie LeBlanc. Each recipient addressed graduating students during their respective ceremonies with advice for the road ahead.
Dr. Crozier spoke of embracing the uncertainty of youth, assuring the questions that it presents offer some of life's greatest learning opportunities. Before reciting a poem of what to pack for the rest of one's life, she made one request perfectly clear, "may one of the gifts of your degree be compassion."
Dr. Hochschild reflected on the life and times of Saint Elizabeth Ann Seton, founder of the Sisters of Charity and namesake of one of the Mount's educational buildings. Recounting moments of Saint Elizabeth's difficult life, she urged graduates to "think big" in dark times to create positive change in the world around them.
Dr. LeBlanc praised the value of taking risks and rising to challenges, paying tribute to the Mount's founders, the Sisters of Charity: "finding your strength, finding ways to make something happen that you really believe in is the way this university was begun." Channeling her Acadian roots, she closed her address performing the song Evangeline by Michel Conte.
Student Award Recipients
Valedictorian Prizes for significant contributions to extra-curricular activities at the Mount and in the community-at-large were awarded to:
Kim Sheppard, Bachelor of Education, Woodsville, NS
Theresa Rath, Master of Arts (Communication), Halifax, NS
Courtney Church, Bachelor of Arts Honors (English), Dartmouth, NS
The President's Prize, awarded to graduates whose generosity, energy and commitment enriches the university, was presented to:
Courtney Church, Bachelor of Arts Honors (English), Dartmouth, NS
Alison Delory, Master of Public Relations, Halifax, NS
Wendy Birt, Bachelor of Education (Elementary), Dartmouth, NS
Membership to Kappa Gamma Pi, the National Catholic College Graduate Honor Society, is based on scholarship, leadership, and service, and was presented to:
Matthew Verge, Bachelor of Arts Honors (History), Port Mouton, NS
Shannon Carrigan, Bachelor of Education (Elementary), Bedford, NS
Gabrielle Cheverie, Master of Education (Elementary and Middle School), New Glasgow, NS
The Governor-General's Medal is given once per year for the highest aggregate in the final three years of a university program to one graduate level student, and one graduating master's student:
Undergraduate – Sarah Jane Drake, Bachelor of Arts, Chester, NS
Graduate – Marie Grace Brown, Master of Applied Human Nutrition, Hammonds Plains, NS
President Emerita Announced
Spring convocation also recognized Dr. E Margaret Fulton, OC as President Emerita for her exceptionally distinguished service as the Mount's President from 1978 to 1986, at a time when she was the only woman in such a role in Canada. Dr. Reginald Stuart was bestowed the title of Professor Emeritus for his service as former Dean of Arts and Science in 1988 and in his continued career as a full-time faculty member since 1996.
Faculty members honoured for Teaching Innovation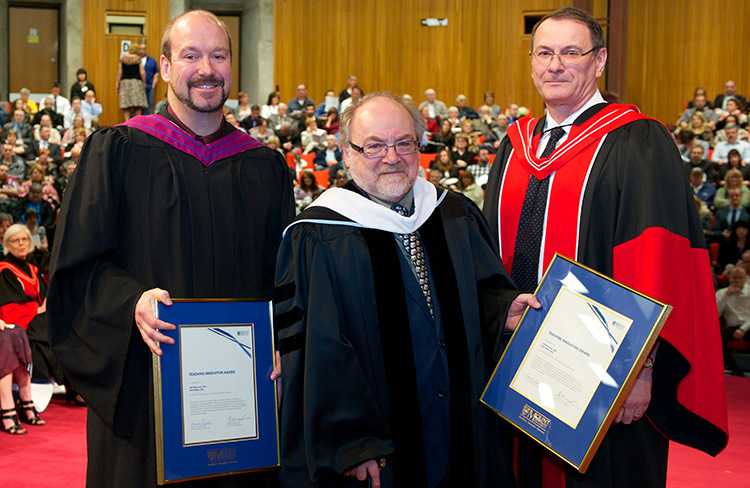 Earning Teaching Innovation Awards, Dr. Jeff MacLeod and Dr. Nick Webb were recognized for their outstanding creative collaborations resulting in a unique course, Art and Politics. The course examines the intersection of art and political studies in imagery, metaphor, and the creation of meaning. They have team-taught their course successful on both the Mount and NSCAD campuses. (Photo shown at right: Dr. Jeff MacLeod, Dr. Nick Webb, Dr. Brook Taylor – Dean of Arts and Science)
About Mount Saint Vincent University
Recognized as a leader in flexible education, applied research, and a personalized approach to education, Mount Saint Vincent University has been nationally recognized among undergraduate universities in Canada for our success in Social Sciences and Humanities Research Council grants and for having one of the lowest student-to-professor ratios. The Mount is committed to being a model of creative teaching and research that nurtures socially responsible global citizens. For additional information about the University, visit msvu.ca.
-30-
For more information:
Ben Boudreau, Public Affairs
t: (902) 441-0505
ben.boudreau@msvu.ca