The Aboriginal Student Centre and Office of the President at Mount Saint Vincent University today hosted students, faculty and staff at the Mount's first Wi'kapaltimk Aqtapuk or Mid-Winter Feast.

"The Mi'kmaw Mid-Winter Feast is an ancient Mi'kmaw Feast. It was traditionally celebrated shortly after the first new moon of Punamuiku's (January). Mid-winter was the end of the year and the start of the new ceremonial year for the ancient Mi'kmaq. The Mid-Winter Feast purpose was the presentation of thanksgiving to all the spiritual forces, especially to the Great spirit, for the blessings of life, health, and sustenance and the privileges of social life." (source: Potlotek First Nation)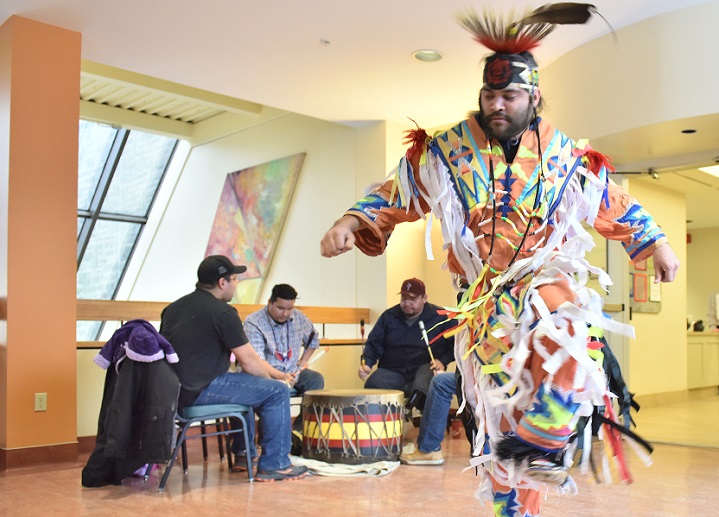 Gathered in the Rosaria Dining Hall at the Mount, attendees feasted on a traditional Mi'kmaw menu, including stew, salmon, bannock, vegetables and berries. Drumming and dancing by Mi'kmaq drum group Smokey Point accompanied the event. As well, Catherine Martin, former Nancy's Chair in Women's Studies at the Mount and recent Order of Canada recipient, performed a traditional Mi'kmaw chant often sung at feasts and other gatherings. Mount student Kat Arsenault (pictured immediately below) opened the event, noting the importance of the Aboriginal Student Centre to her Mount experience.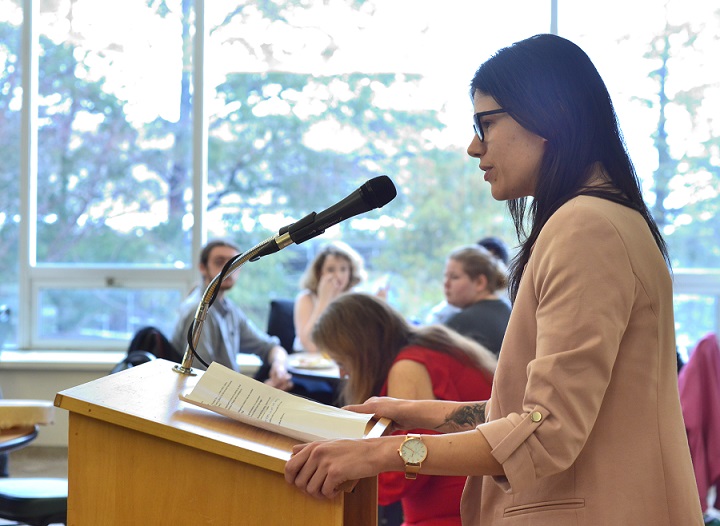 In an address, Catherine (pictured below) also reminded all those gathered that the Mi'kmaw Mid-Winter Feast has been a tradition for the Mi'kmaq people for thousands of years. "That we're all coming together today to acknowledge the spirits, acknowledge the animals, the mother earth for giving us everything we need to survive so far, is a great step towards righting relations under the truth and reconciliation calls to action," she said.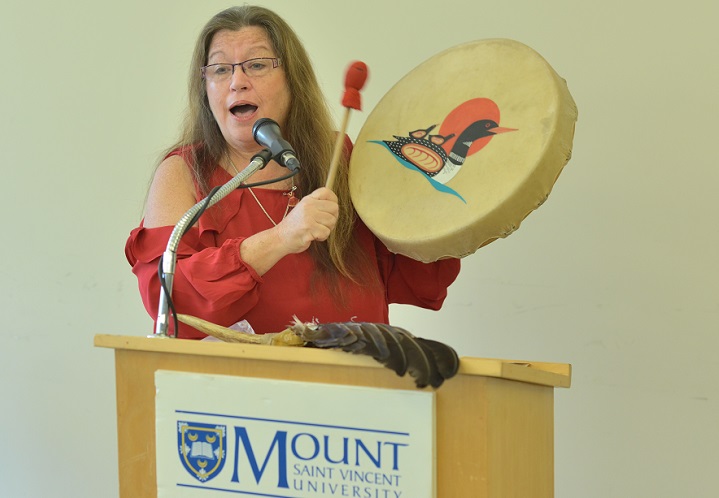 "Events like today's build upon the Mount's important reconciliation efforts," said Dr. Mary Bluechardt, Mount President and Vice-Chancellor (pictured below). "It is critical that we recognize the diversity of our student, faculty and staff communities and learn about each other's histories, traditions, and cultures. I know the power of higher education in advancing transformative change, but it takes all of us working together, truly listening, and truly understanding to enact positive sustainable change for all."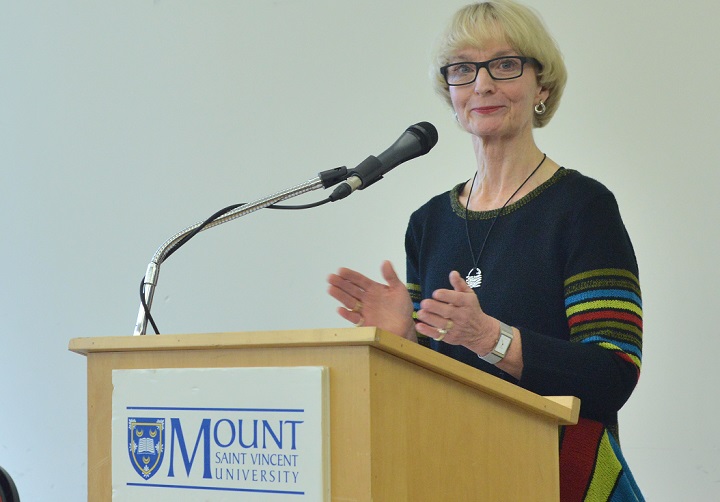 The Aboriginal Student Centre at the Mount offers supports for students in an educational and culturally engaging space on campus. The Centre provides academic advising and offers the opportunity for students to learn more about Aboriginal culture while providing a place to study and engage with peers. It is home to the offices of Veronica Gore, the Mount's Coordinator of Aboriginal Student Services, and Patrick Small Legs-Nagge, appointed in the fall of 2017 as the first Special Advisor to the Mount President on Aboriginal Affairs. In this role, Patrick plays an important part in supporting the success of Aboriginal learners and ensuring meaningful relationships with the Aboriginal community – both of which are of great importance to the Mount.