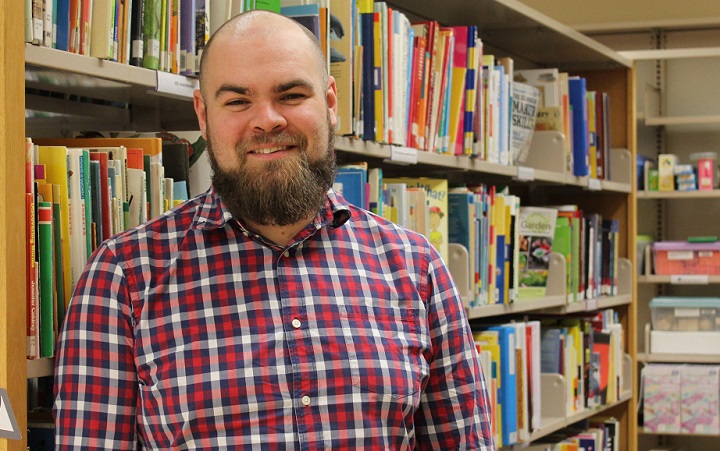 May 2019 convocation won't be Jonathan Grant's first time walking across the graduation stage. A graduate of the Bachelor of Arts (Honours) program, he will become a two-time Mount alum this spring as he graduates from the Bachelor of Education program.
Jonathan has been an active member of the Mount community, spending time working and volunteering with the Students' Union as well as assisting in research with various professors and departments.
To cap off his Mount journey, Jonathan will deliver the valedictory address at his convocation ceremony on Friday, May 17 [
watch live online
]. We asked Jonathan to share a little about what he has learned during his time at the Mount and what's next for him. Read on to see what he had to say!
About Jonathan
Hometown:
Antigonish, NS
Current city/town:
Halifax, NS
Degree being awarded at spring 2019 convocation: Bachelor of Education (Secondary)
High school attended: Dr. John Hugh Gillis Regional High School
Previous education completed: Bachelor of Arts (Honours) from the Mount
Jonathan's Mount Journey
Q. Why did you choose to study at the Mount?
A.
"I chose to study at the Mount because I had completed my undergraduate degree here and had a really amazing experience. I had friends who were in the
Bachelor of Education
program so I came in with a good idea of what the program offered."
Q: How have you been involved on campus during your time as a Mount student?
A: "I've volunteered with the Mount Students' Union (MSVUSU) during Shinerama and as an orientation leader. I was elected VP Advocacy and served as the treasurer and liaison to the Canadian Federation of Students – Nova Scotia. I've also served as speaker of the MSVUSU and president of the ASCD-MSVU Chapter [ASCD is an international network of teachers committed to excellence in teaching for maximum benefit of students]. Outside of the Students' Union, I participated in a panel discussion at MSVU during the Atlantic Provinces Political Science Association Conference and volunteered as an ambassador for the sociology department during open house events."
Q. What role did your practicum experience play in your learning?
A. "The practicum experience in the education program is paramount [there are two practica included in the program]. I felt that the classroom work prepared me well for teaching, but once I was in the classroom I thought that was where the real learning began. You can prepare as long as you want, but when it comes down to it you don't know how you are going to react in different situations, how you're going to make connections with your students, or how you're going to manage your time and your classroom. My practicum provided a wonderful experience with amazing associate teachers who helped coach me to become a better teacher. During my practicum at West Pictou Consolidated, I had the opportunity to help out with the school curling team and the school breakfast program.
For my second placement I travelled to Cape Dorset, Nunavut to teach a mix of social studies, English, and math to students ages 13 to 21. The experience was incredibly challenging and forced me to approach things quite differently than I normally would. It also taught me to be resourceful."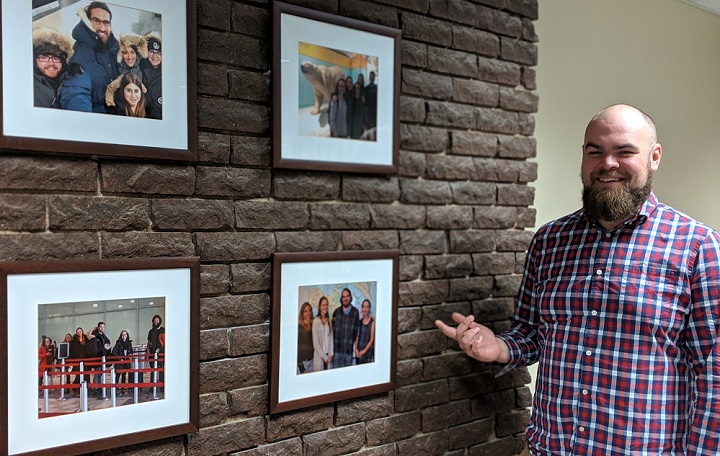 [Photos from this year's education practicum placement in Cape Dorset, NU are on display in Seton Auditorium outside of the Auditorium entrances where convocation ceremonies will be held.]
Q. Who are your academic and research mentors (either at the Mount or beyond)?
A. "I look up to people doing research in the field of education. It is not an easy task to balance teaching and research simultaneously. Some of the folks who have shown me really interesting teaching methods include Zhanna Barchuk and Dr. Mary Jane Harkins (MSVU Faculty of Education), Dr. Alex Khasnabish (chair of the MSVU Sociology & Anthropology department), and Steven Van Zoost (a teacher at Avon View High School in Windsor, NS)."
Q. Tell us about research you've been involved in as part of your studies.
A. "I am currently co-writing a paper on Universal Design for Learning with Zhanna Barchuk, Mary Jane Harkins, and Laura Knapton. I previously worked with Eva Knoll to annotate academic papers for her graduate studies classes and viewed photographs of weaving for website publication. I also worked as an assistant in the Curriculum Resource Centre."
Q. What class, professor, project or learning activity has held the most meaning for you? Why?
A. "I enjoyed the way that many professors acted as mentors on top of teaching their course content. While I was doing my practica, I was in contact with multiple professors to ask questions, talk about ideas, and receive guidance. I never felt like I was alone, which helped ease the anxieties of taking over a classroom for the first time. I also enjoyed the comradery of my peers in the education program. It felt like a tight-knit group and there are some pretty amazing future teachers coming out of this program.
Nik Philips' Indigenous Knowledge course was one of the highlights of my degree. Nik is incredibly open. For a young professor he has a ton of life experience that he brings to his teaching, which I found inspiring. His activity about historical attempts to eliminate Mi'kmaq culture was the most impactful lesson I have ever taken part in."
Q. What is your favourite location on campus and why?
A. "The Library. There is something about being surrounded by books and other people being productive that helps me be productive. I think we have a beautiful library at the Mount with wonderful staff, and I have spent A LOT of time there over the years."
Q. If you could share just one piece of advice with your pre-Mount self, what would it be?
A. "Don't get ahead of yourself. When I did my undergraduate degree, I had everything planned out. I was going to graduate in four years, take a year off, study for my LSATS, and go into law school. I ended up putting a lot of unnecessary pressure on myself. Fortunately, that plan didn't pan out. My advice to my former self would be to relax and enjoy what I was doing at the time and just live in the moment a bit more."