Carmel Teasdale to compete at regional competition on April 27
On Friday, April 1st, five graduate students from several academic programs competed in the Mount's local 3MT event. These students had just three minutes to explain their thesis research to a live audience with only one static slide to illustrate their work.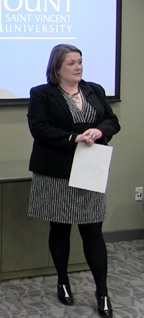 At the end of the night, a panel of judges selected Master of Arts, Communication student Carmel Teasdale(pictured at left) to represent the Mount at the 3MT regional competition later this month.

Carmel's thesis topic is Making Sense of New Brunswick Power's Energy Efficiency Change: Will Customers Get on Board? Her presentation distilled the complexity of the utility's communications strategy and their goal to reduce costly and environmentally unfriendly power usage in the province into a compelling and succinct speech.


Tough Competition at Local Event
Carmel faced stiff competition from her fellow participants – students from Education's Curriculum Studies and Lifelong Learning programs, as well as from Women's & Gender Studies. In the end, the judges chose Carmel to represent the Mount at the regional 3MT competition at Memorial University of Newfoundland at the end of April.




3 Minutes. One Slide. No Pressure.
3MT is a Canadian graduate student competition sponsored by the Canadian Association for Graduate Studies (CAGS). It began in Australia at the University of Queensland in 2008, and has since spread to countries and universities around the world. Participants must describe their research in an engaging and accessible way to a live audience – in under three minutes. Competitors are allowed to use a single static slide as a visual aid.

Winners from local competitions across Canada are invited to attend regional competitions (Western, Eastern, and Ontario). Video recordings of these regional presentations will then be featured on the CAGS website.

At the regional competition, the judges will select a winner and a runner-up from these videos, and the public will vote for the People's Choice winner. The winner will receive $1,500 and an all-expenses paid trip to the CAGS annual conference. The second place winner receives $1,000, and the People's Choice winner receives $500.

Good luck, Carmel!

Watch the presentations by all Mount competitors at: https://www.youtube.com/user/MSVUGradStudies/videos.