Q&A with Applied Human Nutrition student Esther Adsett
Esther began her studies in the Mount's Applied Human Nutrition program in September of 2011 and is expected to graduate in 2016. And though she hasn't yet decided exactly what facet of nutrition she'll pursue after graduation, she's definitely planning a career as a Registered Dietitian. We're betting she'll do great things! (Esther is pictured at right in the photo immediately below, and on the left in the second photo.)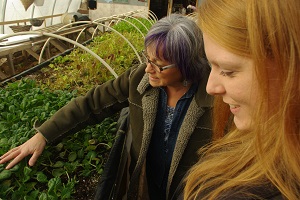 Where are you from?
I am from Keswick Ridge, New Brunswick.
Why did you choose to study nutrition?
I chose to study nutrition because I always had an interest in helping people, and I recognized the importance of nutrition in both disease prevention and treatment. I also have a passion for cooking and promoting health through the consumption of nutritious foods.
What makes the Mount a unique learning experience from your perspective?
The Mount provides a unique learning experience due to its small size. The small class sizes allowed me to get to know my professors early on in my degree and become involved in research and volunteer opportunities occurring at the Mount. The Mount's location in Halifax also makes it possible to become involved in many community initiatives or volunteer opportunities that only exist within a city of this size.
I heard you had an interesting internship opportunity on an organic farm – tell us about that.
In third year I was accepted into the Integrated Internship Program at the Mount. In the summer of 2014, after third year, I had my first internship. My next two internships will take place in the summer and fall of 2015.
My first internship was an administrative internship at Millennium Gardens Farm in Mill Village, Nova Scotia. The farm is a small-scale farm that follows organic practices in the production of vegetables (greens, peppers, cucumbers, beans, tomatoes, berries) and the raising of animals (pigs, chickens, turkeys, and goats). Millennium Gardens seeks to make fresh, nutritious foods available to local residents and visitors at a competitive price. As part of my internship, I was involved in marketing and sales, inventory management, meal planning for meals provided to farm personnel, researching the benefits of various products, and regular farming activities such as planting, weeding, watering, and harvesting.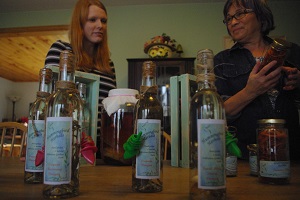 I was able to be part of the food production cycle from planting right up until packaging and sales. I picked greens and other vegetables weekly and helped deliver them to local cafes. I helped in sausage production using ground pork from a pig raised on the farm, and I cleaned chickens after slaughter. My major project surrounded the creation of marketing materials for the herb-based products created using items produced on the farm. Hummingbird Herbals is a company operated by one of the owners of the farm. It uses herbs and vegetables from the farm to create a variety of products, including herbal vinegars, herbal salts, and vegetable chips. I was involved in creating the labels for these products and developing marketing materials that advertised their nutritional properties and health benefits. I also helped in the product development stage of the herbal salts and vegetable chips.
I understand you are a scholarship recipient. Which scholarships have you won?
In my first year at the Mount, I received the Sister Irene Marie Endowed Scholarship, which was created in memory of Sister Irene Marie, the first director of the Home Economics program at the Mount. For the past two years I have been the recipient of the Margaret Flemming Endowed Scholarship, which was created in memory of Margaret Flemming who was a student in the dietetics program. Both of these scholarships are awarded based on academic achievement and are given to a nutrition or dietetic student.
What do you hope to do after graduation?
Right now I have no concrete plans for after graduation aside from becoming a Registered Dietitian and entering the workforce. I'm looking forward to experiencing my next two internships which include a community and a clinical placement. Hopefully, after completing these internships I will have a better idea of what area of dietetics I would like to pursue. At the moment, I am interested in Food Safety and Food Inspection. I would love to stay in the Maritimes after graduation, but I also love to travel, so I am willing to pursue a job anywhere in Canada.
What would you tell someone considering studies at the Mount, but still undecided?
I would tell someone who is considering the Mount that the programs at the Mount are offered in a welcoming and close-knit environment. The small class sizes allow the professors to get to know each of the students, and students can easily be involved in the research being conducted at the Mount. Professors are also eager to help students succeed, and there are many opportunities to access extra help in areas they find challenging. Students at the Mount also have access to an abundance of
financial support
, which makes the university experience much less stressful.
Are you involved in any groups (hobbies or volunteer roles) outside of your studies? Either at the Mount or outside of the Mount community?
I am a Co-Chair of the Canadian Obesity Network – Students and New Professionals chapter here at the Mount. Our mandate is to promote education and awareness surrounding obesity and current obesity research. To this end, we organize several events each year which feature a guest speaker who can present current research findings about different aspects of obesity. I am also part of the executive of the Mount student branch of the Canadian Association of Foodservice Professionals. My role on this executive is to distribute information to other executive and general members.
I am an English as a Second Language (ESL) teacher at North Street Gospel Hall. We offer free ESL classes to anyone who is interested, including university students, recent immigrants, or individuals visiting Canada. I teach alongside more experienced teachers, or occasionally lead a class myself if there are students with a very limited knowledge of the English language.