"When I'm learning, I feel like I'm drinking life. It completely fills me up."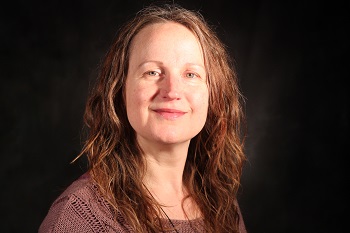 Mount student Leah Crowell's thirst for education is getting noticed. She recently won the Joyce Kennedy Adult Learner Award, given annually to two mature Atlantic Canadian students with strong goals, financial need, academic achievements, and contributions to their university.
Leah, a mother of two boys, returned to school after careers as a hairdresser, bicycle shop co-owner, and manager at Bell Aliant. "I had to move toward teaching," she says of her decision to enroll in the Mount's
Child and Youth Study
program in 2011. "This is where I belong."
"When I called her in December to tell her she had won she was just so enthusiastic," said Dr. Watts, who remembers being impressed by her commitment to education. Leah remembered things a bit differently, admitting that she burst out crying when she got the call.
"They were happy tears," she says. Not only does the $1,000 award money help pay her bills, it's a vote of confidence in her abilities. Leah is particularly interested in helping nurture emotional and social intelligence in children, a life's work that has been reaffirmed by her practicum experience.
"I treat children with the respect I'd give an adult. That's my magic," she says. Leah plans to continue her education with a teaching degree and graduate studies. "It's such a gift when you figure out what you're meant to do."
While all member universities in APACUE can nominate two candidates annually, the Mount holds a strong record with four award recipients in the past five years.
"It's testimony that we're welcoming to that population," said Dr. Watts, noting that mature students are often under different financial pressures. "They have to make sacrifices. That's clear in the application letters they write."
Now in her final undergrad year, Leah is on campus often and is co-president of the Child and Youth Study Society. In the past she's volunteered for Junior Achievers and Scouts Canada, and she's still a lunch monitor at her son's school one day a week. To anyone considering their own educational goals, Leah hopes her own experience can be encouraging.
"It's never too late to recreate yourself and your life."