Building Self­ Reliance: Pathways to Healthy, Local and Sustainable Food in Our Institutions
A talk with Joshna Maharaj, Chef and Activist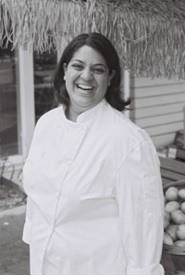 Hosted by the Food Action Research Centre at Mount Saint Vincent University and the Ecology Action Centre

When: Wednesday March 2, 2016, 10:00 a.m. to 11:30 a.m.
Where: Faculty Lounge (Room 404), 4th floor, Seton Academic Centre, Mount Saint Vincent University [map]

About Joshna and this session
Nova Scotia's institutions feed large numbers of people every day. As major purchasers of food, universities, schools, and health care facilities, among others, can play a key role in nurturing local and sustainable food systems that support wellness and community economic development. These organizations are in a strong position to influence food systems.

Chef and activist Joshna Maharaj has extensive experience in shifting institutional food practices, procurement and public dollars to focus on healthy, local and sustainable food, and has led exciting transformations at Ryerson University, Toronto-area hospitals and the Stop Food Centre.

This event is open to all and free of charge.

This session is being held in partnership with the Nova Scotia Departments of Agriculture and Health & Wellness, and supported by Select Nova Scotia and the Nova Scotia Health Research Foundation.
---
For more information:

Satya Ramen
Senior Coordinator, Community Food
Ecology Action Centre
902-446-4405 (c)

Gillian Batten
Manager, Public Affairs
Mount Saint Vincent University
902-457-6439
Gillian.Batten@msvu.ca