International Day of the Girl Celebration at MSVU
The Alexa McDonough Institute for Women, Gender and Social Justice (AMI) at Mount Saint Vincent University is set to host its third annual celebration of the UN International Day of the Girl Child featuring the stories of inspirational girls from across Nova Scotia.
"The goal of this event is to help bring awareness to the challenges that girls face – showcase some, inspire some, and provide an opportunity for young girls in Nova Scotia to get together," noted Dr. Susie Brigham, Chair of the AMI at MSVU and professor in the Faculty of Education.
From the UN: "The world's 1.1 billion girls are part of a large and vibrant global generation poised to take on the future. Yet the ambition for gender equality in the Sustainable Development Goals (SDGs) highlights the preponderance of disadvantage and discrimination borne by girls everywhere on a daily basis."
When: Friday, October 11, 2019, 9:30 a.m. to 12 p.m.
Where: Multi-purpose Room, Rosaria Student Centre, Mount Saint Vincent University, 166 Bedford Highway [map]
Presenters will include a diverse group of 13 young women with deep connections to community, helping others, and advancing the lives of girls. They are dancers, entrepreneurs, musicians, scientists, actors, singers, poets and visual artists.
Joining participants will be several notable guests:
Mike Savage, Mayor of Halifax
The Honourable Patricia Arab, Minister of Service Nova Scotia and Internal Services
Dr. Mary Bluechardt

, President & Vice-Chancellor, Mount Saint Vincent University

Dr. Susie Brigham, Chair, Alexa McDonough Institute for Women, Gender and Social Justice
El Jones, MSVU faculty member and former Halifax Poet Laureate – El will close the event with a spoken word piece
2019 Presenters:
Jemima Mitima, Calane Blake, Ghaya Khash & Emerald Hull – Dancers
From left to right:
Jemima Mitima is a student at Halifax West High School. She's very passionate about the arts and does her best to get involved with anything to do with arts around her community. She encourages her peers to showcase any talents they might have in order to gain self-confidence and enjoys uplifting people around her. She has future plans to enter the world of business as an entrepreneur. As a girl, she wants to show the world just how powerful a woman can be and the positive outcomes she can achieve.
Calane Blake is a 17-year-old student who goes to Halifax West High School. Her hobbies include, singing, dancing and acting. She has performed at Dalhousie, Saint Mary's and Mount Saint Vincent universities, as well as Acts for Aids and the multicultural show at Halifax West High School. She would like to take her love of the arts and make it into something she will enjoy doing in the future.
Ghaya Khash is an 11th grader at Halifax West High School. She was born and raised in Halifax but her roots are Nubian and she lives to express that with her passion for dancing Afro-beats dance styles as well as dancehall and hip hop. She has a huge soft spot for animals and is a self-described "nature freak" at heart. She loves to listen to music and express herself with different hairstyles. She likes to get involved and participate in different events around the community.
Emerald Hull is an 11th grader at Halifax West High School. Her hobbies include dancing, track, cooking and fashion. After high school, she would love to get into the fashion industry or interior decorating.
Jordan Anderson & Jha-Zeyia Butts – Entrepreneurs
Jordan Anderson is a ten-year-old African Nova Scotian girl from the community of Upper Hammonds Plains and of Afro-Bahamian lineage. She is the third child of her parents Dr. Késa Munroe-Anderson and Rev. Dr. Lennett Anderson and is the sister to two brothers, Micah and Caleb. Jordan is a creative, competitive and fun-loving fifth grader in the French Immersion program at Hammonds Plains Consolidated School. In her spare time, Jordan loves gymnastics, basketball and decorating, baking, cooking, and dancing. A kind and thoughtful person by nature, she is always happy to help others in any way that she can. Jordan is an active participant in the Cultural and Academic Enrichment Program in her community and the children's ministry of her church, EBC: The Meeting Place. Last summer, she was a participant in the "Girls With Ideas" initiative which gave her the opportunity to hone her creativity, and develop her leadership and entrepreneurial skills and talents. Jordan looks forward to using these skills and talents to pursue her dreams and to continue to make positive contributions in her community in the future.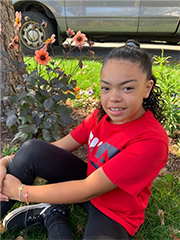 Jha-Zeyia Butts is 10 years old and lives in the African Nova Scotian community of Upper Hammonds Plains, Nova Scotia. She is in grade five French Immersion at Hammonds Plains Consolidated School and a student of music at Andrea's Studio where she has been taking piano lessons for five years. She started swimming lessons at the age of three and has successfully completed her Bronze Star at the Canada Games Centre. She enjoys cooking, dancing, reading and helping people. She brings joy to all who know her and makes everyone feel welcome. Jha-Zeyia is a natural problem solver and whenever she identifies a problem. When the group "Girls with Ideas" group was brainstorming ways to raise money for an upcoming trip, Jha-Zeyia came up with the idea to sell snow cones. Over the summer, she set up a lemonade stand and sold potato chips along with the lemonade. She made a huge profit because it was near a construction site and she also had a cup on the side for tips. She is quite the little businesswoman.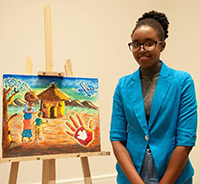 Chadia Kayinamura, an artist, was born in the Congo and grew up in a refugee camp in Uganda. She is the first-born child in her family, so has a lot of responsibility and tries to set an example to her young siblings. She goes to Université Sainte Anne. She has always had a dream of being a nurse to take care of people, particularly children experiencing pain. She currently works as an assistant teacher in early childhood education. Chadia is an artist who loves painting. She began painting when she was 14 years old and feels painting gives voice to people who don't have a chance to speak.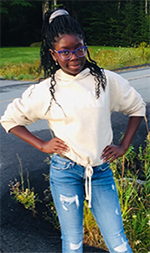 Damini Awoyiga, a poet and singer, is a grade seven student at Madeline Symonds Middle School in Hammonds Plains. Damini enjoys writing and performing spoken word poems. She was one of four winners of the 2019 AMI Girls conference writing contest. She enjoys many extracurricular activities such as soccer, singing, dancing and art.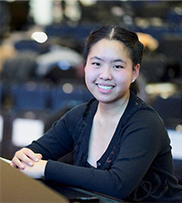 Chantal Peng is a 19-year-old activist, public speaker, and Bachelor of Music student at Acadia University. An avid volunteer and firm believer in youth engagement, she is a Kings' Youth Councilor, Acadia University Ambassador, and was invited to speak at the NS Province House as the ACIC-CACI 2018 Youth Volunteer of the Year. Passionate about gender equality and healthcare, Chantal has had opportunities to travel across Canada and to developing countries and will speak about her work at the 2019 Canadian Conference for Global Health later this October. A Youth Advocate and Ambassador with Plan International Canada, Chantal continues to facilitate and speak at conferences across Canada including ASI Atlantic Canadian Mental Health Conference, and Plan Intl. Canada National Youth Summit. Using her musical talents on the piano and violin, Chantal is the Music Director of St. James Anglican Church and played for Prime Minister Justin Trudeau in 2018. A piano performance major, Chantal was invited to play at Carnegie Hall, has placed first in national and international competitions, is a recipient of the Lieutenant Governor Education Medal, and a 2019 Acadia Deans' List Scholar. She aspires to be an international human rights lawyer in the future.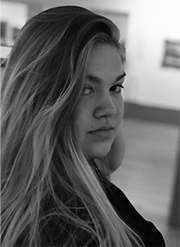 Kayley Dixon is an 18-year-old vibrant and passionate community leader and spoken word artist. She strives to connect youth with opportunities that will enhance their development and broaden their futures. Through her work and her poetry, she is able to speak to groups who are often overlooked and silenced in hopes to engage and empower them to rise above. Her most recognized spoken word performance "a touch of sexual assault" currently has over 70 million views on social media. She has spoken throughout HRM and in Florida, sharing her messages of tragedy, empowerment, and the beauty of femininity. As a resilient and powerful young woman, she hopes to connect and inspire current and future generations to change the world – one girl, one woman, one person at a time.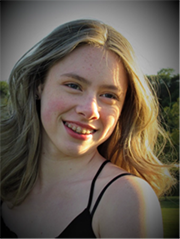 Layla Owens, scientist, is 13 years old and in grade nine at École Secondaire du Sommet, Halifax. Her passion for STEM subjects and entrepreneurship has earned her several awards: the NS Minister's Entrepreneurship Award of Excellence for Technology, a Canada Wide Science Fair Excellence Award Jr.; a CWSF Ted Rogers Innovation Award; a full scholarship to a week-long Youth Science Canada/York University STEM Entrepreneurship Bootcamp in Toronto, and the STEM Entrepreneurship Bootcamp Award. Layla is also a competitive dancer with Element Dance Studio and volunteers as a Teacher's Assistant and Choreographer for her school's upcoming Drama Club production of 'The Nutcracker." For the last three years, Layla has been the recipient of the Étoile du Sommet Award in recognition of her volunteer work in the community.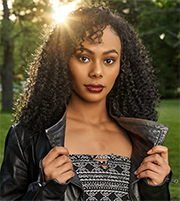 Lyris Daye, singer, is a first-year student at Dalhousie University pursuing her Bachelor of Arts Degree with a Major in Theatre Production. Lyris has a passion for all aspects of Performing Arts, but her absolute favourite is Broadway Musicals. Lyris is best known for her Neptune Theatre Debut in the Canadian Regional Production of the Color Purple where she played Olivia, Church Soloist and a member of the Ensemble cast. Aside from Broadway, Lyris is a runway and print model under the agency of Soli Productions, she writes, sings and performs music at numerous community events, and is also a member of Broadway in the Hood Canada where she had the wonderful opportunity to perform in Las Vegas at the Smith Centre. Lyris is the second oldest of 5 siblings and when not performing, she loves spending time with family and friends and giving thanks to God.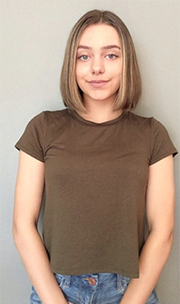 Aeryn Eastwood, scientist, is a tenth-grade student at Citadel High. She likes drawing, music, sports, and most of all, science. Outside of school, she has participated in activities such as track, CrossFit, dance classes, and SuperNova courses like the I.T.S. For Girls program. She would love to pursue a career in programming or engineering. Last May, Aeryn participated in her school science fair and went on to compete at C.W.S.F. (Canada Wide Science Fair) where she won bronze in her age category. She hopes to someday be an inspiration to other girls who are interested in pursuing S.T.E.M. careers.
This free event is open to youth from around Nova Scotia of all ages. Those interested can register here.
The Alexa McDonough Institute also hosts an annual Girls' Conference that seeks to help this generation of Nova Scotian girls develop, appreciate and celebrate their own abilities and talents and those of other girls and women, while empowering them to be a positive influence in their communities. The AMI is a hub of feminist energy, action and research that seeks to achieve equity and improve lives in their complexity and multiplicity, locally and globally.
Media are welcome to attend the event. Media interested in attending are asked to contact Gillian.Batten@msvu.ca in advance.
-30-
Media contact:
Gillian Batten
Director, Communications
Mount Saint Vincent University
Gillian.Batten@msvu.ca
902-457-6439