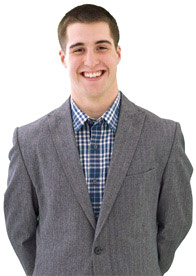 "You've got to stand out. You've got to go above and beyond. The Mount supports your quest to do that."
Bringing big ideas to life
As a high school senior from Cambridge, Nova Scotia, Kevin Robinson had no plans to become an entrepreneur. Cut to five years later and Kevin is on track to become one of Nova Scotia's most promising business leaders.
During his second year of studying Business Administration at the Mount, Kevin placed first at the Elevator Pitch Competition organized by the Centre for Entrepreneurship Education and Development (CEED). Kevin presented the winning concept of a business he had launched called The Helping Hand; a service-based business that assisted with household jobs requiring physical labour.
That first venture gave Kevin a taste for life as an entrepreneur. "I realized I liked working for myself, it didn't feel like work to me."
Kevin has since launched two other business initiatives; Distractions, a publication that provides advertising space for businesses to target community members and Finishing Touch Auto Care, a car detailing service with a strong client base.
"Professors know you by name"
Kevin credits the Mount with helping to turn his business goals into reality, specifically the support of Dr. Peter Mombourquette, Associate Professor and Department Chair.
"He's been a huge support, helping me with my ventures and always getting in touch with great ideas for me to execute," says Kevin. His relationships with faculty have continued since graduating with his business degree in the spring of 2012.
Kevin is a team member at Bluteau Devenney Caseley Group of National Bank Financial Wealth Management, a boutique firm with services tailored to physicians, mainly specialists, providing financial planning and counsel.
"I'm involved in many aspects of the firm, which is a perk of being part of a smaller organization," says Kevin, whose role includes leading the team's marketing and branding strategy, business development and the preparation of financial goal-setting activities for client meetings. "I do love my job; it is a great firm that offers a superior service. The organization's emphasis is on building lasting relationships, and because I consider myself a relationship person, I see this as an ideal fit."
A relationship person indeed, but Kevin could also be called a classic overachiever. In addition to his full-time job, Kevin is continuing to run his auto detailing business and taking further security courses, while also in his first year of the CMA-MBA program at Saint Mary's University. While he contemplates selling his auto-detailing business, it would have to be under the right circumstances. "I'd need to find a new owner who is committed to extending the high level of service currently offered to my clients."
Now a Mount graduate, Kevin is proud of his experience at the Mount, including his involvement in the school's marketing campaign. "Looking at the picture of me overlooking Halifax, I definitely feel like I have a better understanding of the city; the Mount has absolutely prepared me to be a part of it."