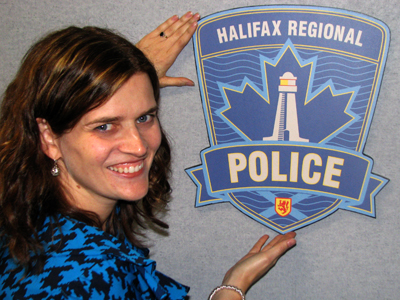 When you meet Theresa Rath, you may recognize her as a familiar on-camera spokesperson for Halifax Regional Police. But what may be surprising to learn, is that this 15-year communications veteran and public relations manager is working toward a degree of Master of Arts in Communication through Distance Learning at the Mount.
"Distance learning really works for me," says Rath. "The flexibility of the Mount's program has allowed me to take courses from work and from home." She adds, "I was even able to complete my first class of my summer course last year by signing in from the Dominican Republic."
Rath, a previous graduate of the Mount's Bachelor of Public Relations program, spent 13 years in the workforce before deciding it made sense to come back. "I approached my management team, and they were fully supportive," she says. "Many of my class projects have been related to communications in policing, which has enabled me to grow as a communicator, and I think it's also allowing the organization to grow based on what I'm learning."
She adds, "Last summer, I collaborated with two classmates in a social media course to create a social media strategy for the Public Safety Office which the public relations team is currently implementing."
Distance Learning wasn't part of Rath's original plan, but the delivery method for her program changed within the first year, moving to a blended learning environment. "I could come in to the classroom with the professor, while other students were elsewhere in Canada," says Rath. "Classroom attendance on campus was optional – so sometimes I came, and sometimes I attended through Blackboard Collaborate. For me, my studies naturally progressed to include Distance Learning, but it has been a new and wonderful approach to learning for me."
Rath, a self-professed promoter of lifelong learning, hopes to continue her in-class experience, but perhaps in a different role. "It's actually my ambition in life to be a professor," says Rath, although she admits it would be a stretch. "I really love practicing public relations, and have such a deep commitment to the community. I often wonder where I could possibly have a larger opportunity to give back, than being part of Halifax Regional Police, but teaching would be a natural progression, and I could give back to the students by sharing my experiences."
"I feel the Mount is a leader in distance education," she says. "I've really enjoyed it." Rath, who plans to wrap up her degree in the coming year, looks forward to continuing her application of acquired skills and knowledge in her already established career.