Andy (Piaoqing) Lin making the most of his time, finding or making his own opportunities to connect with others.
International student Andy (Piaoqing) Lin arrived in Canada last July and has already made his mark on the Mount community. From starting his own dance society, to having dinner with our President – he has opened his mind and his heart to a new realm of possibilities. With a sense of adventure and eagerness to explore, he has made unique connections across campus.

---
"If you want to study abroad you need to have a big heart." –
Mount student, Andy Lin.
---
Andy grew up in Fujian, a province in Southern China, and began his post secondary education at Fujian Agriculture and Forestry University (FAFU) where he studied Agriculture, Resources and Environment. Through an agreement between the Mount and FAFU, Andy's previous studies will be credited towards a Bachelor of Business Administration degree, with a Major in Accounting.
A future in business
His ultimate goal? To become a business owner. Growing up in the restaurant industry, he hopes to follow in the footsteps of his mother and open a restaurant in China. "Because of my Mom, I have experience in business," Andy says.

With his degree, he will have the necessary skills and knowledge to enter the business world, but for Andy, being a Mount student isn't just about his classes. An active volunteer and enthusiastic presence on campus, Andy has taken a proactive approach to connecting with others.
Community initiative
Before Andy began his first semester of classes at the Mount, he had already started to form the MSVU 9.9 Dance Society. "It's a good way to meet friends, have fun and exercise," says Andy. He hopes the society will become more diverse as it expands, incorporating not just international students but Canadian students too – all are welcome.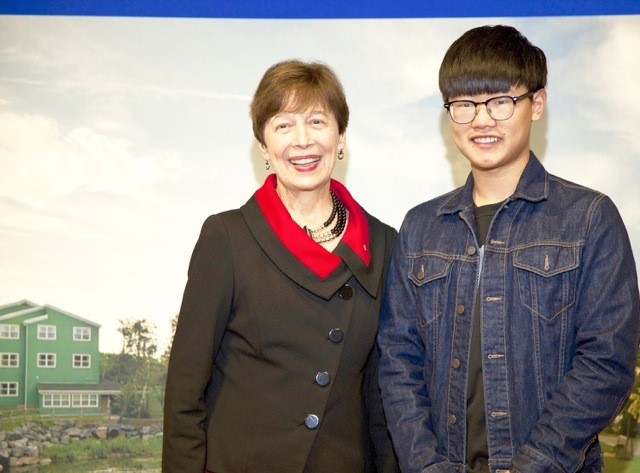 In another volunteer role on campus, Andy was recently part of a team that canvassed Mount students about their opinions on social responsibility at the Mount. This work will help inform the Mount's current and future efforts in the realm of social responsibility. As a thank you, Mount President and Vice-Chancellor, Dr. Ramona Lumpkin, CM, invited volunteers to join her for dinner at her home. "Ramona and I had a lot to talk about," Andy says. "She has been to China six times, so we talked a lot about my home."

Recently, Andy was also part of a team of students involved with the Canada Race Relations Foundation's Canada Lecture, a cross-country live-broadcast event simultaneously connecting students at universities across the country. This year's event focused on a theme of campus diversity – a topic near to Andy's heart.

The Mount's International Education Centre recommended Andy be a part of the Canada Lecture team led by Sinziana Chira, professor of Sociology. His experience and involvement as an international student provided a unique addition to the discussions.

Despite being nervous about leaving home for the first time, Andy has eagerly integrated himself into the Mount community. He has given new meaning to the phrase you get what you give by wholeheartedly opening himself to new people, ideas and opportunities to connect.