Students inspired by local social entrepreneurs
"I tell people I'm a social entrepreneur and people say 'Excuse me?'" Julia Feltham of rentable meeting space The Hub Halifax sighs with a smile. "It's nice to see that over the past few years, the term is entering the lexicon."
Natural charisma and regularly defining her career made Julia the perfect advocate to explain the term to more than 150 students last Friday, February 1, before they took to the streets to launch a business after a mere 12 hours following its conception.

Social Enterprise for a Day, or SE4D for short, is an annual two-day workshop that gives Mount Saint Vincent University (the Mount), Dalhousie University, Nova Scotia Community College (NSCC), and high school students interested in business and community growth access to some of the brightest entrepreneurial minds in Nova Scotia. SE4D is an initiative of the Centre for Entrepreneurship Education and Development (CEED), the Mount's Business Department and the Norman Newman Centre for Entrepreneurship at Dalhousie.
LOCAL LEADERS TURNED MENTORS
After a pragmatic panel starring local business owners, the infamous Pete Luckett addressed the teams before they were paired with leaders to help refine their business ideas; ideas they made a reality on day two. What sets SE4D apart is its focus, combined with an element of mentorship. Businesses exist to fill a v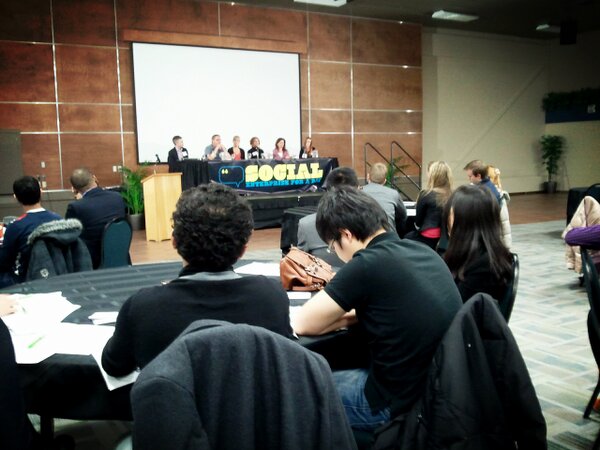 oid in the market, while social enterprises seek to solve a problem while creating a business.
For panelist Lil MacPherson, it meant starting a venue with meals made of local, organic food that also paid her bills. The determination that inspired her transformation from waitress to restaurant owner made a lasting impact on the students.
"Business has to be driven by your customers. Listen to your customers." – Pete Luckett
"Lil jumped out at me; she was enthusiastic but realistic," explained Sadie Perron, an English student at the Mount. "She taught me that it's possible to start something if you feel passionate about what you're doing and do the research. You don't need loads of money; you just need motivation."
THE IMPORTANCE OF STAYING MOTIVATED
Staying motivated, even in moments of failure, was stressed by every speaker and leader. "Fail efficiently" was a mantra repeated several times, and the short time frame of SE4D was the perfect way to force students to learn to get back up quickly.
"We called several grocery stores until the Quinpool Superstore said yes," explained Amy Grant, a student from Mount Saint Vincent University. Grant's team, appropriately named Keep Your Hands Warm, raised money for Feed Nova Scotia by bagging groceries. For Grant and her teammates, including Mohammed Alyami, being persistent paid off. "I couldn't imagine that we'd make $434," said Alyami. "Our original goal was $60."
And while the primary goal of SE4D was to build responsible business skills, the $2,478.86 raised for local charities ranging from shelters to health funds was what fuelled the desire to do well. Pitching a product or service to strangers can be intimidating for first-time entrepreneurs, but tapping into the motivation from the night before inspired the students through the bitter temperatures on Saturday afternoon.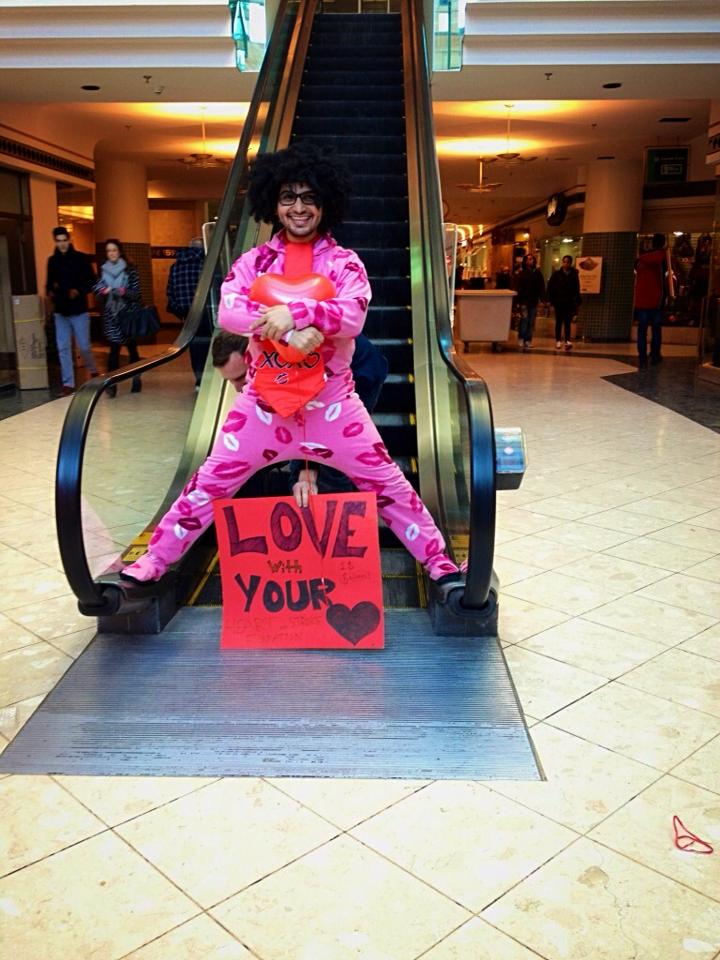 SE4D participants returned to their regular routines Saturday evening with a sense of accomplishment and pride. More importantly, students left with an appreciation of the impact SE4D plays as they go forward in their studies and careers.
"Education is important for passion," Perron reflected, looking at the room of tired but beaming students around her. "Education expands your mind and gives passion the chance to see opportunities."
More information can be found at se4d.ca
---
Photo:SE4D participant and "Will you Marry me?" team member prepared to raise money for the Heart and Stroke Foundation. Their team charged $5.00 for a staged proposal in the middle of Park Lane Mall on Spring Garden Road.
---