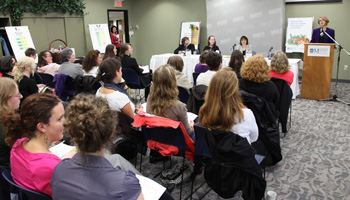 Halifax – According to a study released today at Mount Saint Vincent University, many Nova Scotians may be at risk for their health because they simply cannot afford to eat healthy.
The 2010 Participatory Food Costing report suggests that families relying on minimum wage earnings or Income Assistance are at significant risk of experiencing food insecurity. 
"Food security, which means that everyone at all times has access to enough healthy and safe food, is critical to our physical, mental and social health," said Dr. Patty Williams, Canada Research Chair in Food Security and Policy Change and Associate Professor, Mount Saint Vincent University. "Overall, it is clear that the low income households represented in our study simply cannot afford to purchase a basic nutritious diet, placing them at risk for poor health."
According to the report, the average monthly cost of a basic nutritious diet for a family of four in Nova Scotia in June 2010 was $770.65, up almost 35% since 2002. 
Since 2009, there have been several positive policy changes; the province released its Poverty Reduction Strategy, which included an increase to minimum wage from $8.60/hr to $9.65/hr.  And recently, the Nova Scotia government announced increases to Income Assistance personal allowance rates of $15 per month.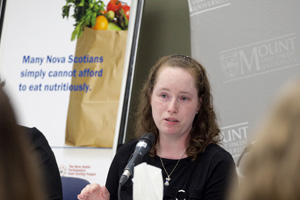 ---
Pictured at left, Bridgewater resident Jacqueline Smith shares her family's experience in struggling with food insecurity.
---
However, the report suggests that a basic, nutritious diet is still simply out of reach for families living in low-income situations. It highlights the need for further review of wages, income supports, and social policy directed toward poverty reduction. It also recommends a comprehensive strategy to address income adequacy to ensure that all Nova Scotians have adequate resources to support their health and well-being.
"Our current system is not adequate, and it's forcing families to make some very difficult decisions," says Dr. Williams.  "In households with inadequate incomes, the food budget is the most flexible and is often used to cover other fixed costs such as shelter, power, and transportation – all of which are also on the rise."
Researchers also stress that food insecurity is a provincial issue and one that affects the cost of health care in our province and our society as a whole.
Participatory food costing was first conducted in Nova Scotia in 2002 with funding from Health Canada and has since been repeated in 2004/2005, 2007, 2008 and 2010 with funding support from the Nova Scotia Department of Health Promotion and Protection (now the Department of Health and Wellness).
The Department has committed to fund ongoing participatory food costing to help to monitor income-related food insecurity and engage partners from diverse backgrounds to work together as a means of building food security in Nova Scotia.
For more information visit http://www.foodsecurityresearchcentre.ca
About Mount Saint Vincent University
A leader in flexible education, applied research, and a personalized approach to education, Mount Saint Vincent University is nationally recognized among undergraduate universities in Canada for our success in Social Sciences and Humanities Research Council grants and for having one of the lowest student-to-professor ratios. The Mount is committed to providing the best university experience for all members of our community and to developing thoughtful, engaged citizens who make a positive impact on their world. For additional information about the University, visit msvu.ca.
-30-

For more information contact:
Akiko Lovett
Public Affairs
Mount Saint Vincent University
(902) 441-0505