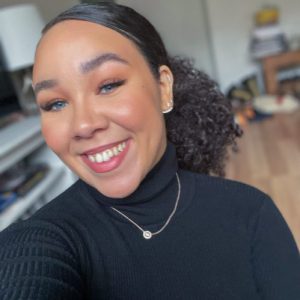 It was May 2020 when Noémie Bergeron-Germain knew she needed to do something to push back against the racial injustice and intolerance she had experienced and observed for most of her life.
"The murder of George Floyd, and the protests, and everything that came out of that really lit up something in me," says Noémie, who now holds a BSc (Hons) from Mount Saint Vincent University (MSVU), and is a candidate for an MSc, Clinical Psychology (Acadia). "I was like, 'I need to do something about this.' I didn't just want to talk the talk – I want to walk the walk as well. And this project grew from there."
Exploring how racial trauma affects executive functions
Fueled by her desire to make a difference, Noémie put her energy into developing an Honours thesis project at MSVU meant to shed light on how an individual's executive functions (things like paying attention, using working memory, or engaging in mental shifting, reasoning, and planning) are affected by racial trauma – race-based stress triggered by real or perceived racially discriminatory encounters. She says the idea was driven by her own experiences and those of her family members and shaped by her perspective as a scientist.
"The more I looked into it, the more I realized there really is a lack of knowledge in the literature about the experiences of Black people from a scientific and quantitative standpoint," says Noémie. "It just gave us one more reason to put this project in motion to start filling that gap when it comes to research on race and racism in Canada."
After conceptualizing and developing the study during summer 2020, Noémie started work on her MSVU Honours thesis project that fall. The study has two parts. First, participants are invited to complete a series of online questionnaires about ethnic identity, racial socialization behaviours, the impact racial intolerance has had on them over the course of their lives, and self-reported executive functioning. Second, they are asked to participate in an EEG (electroencephalogram) recording to measure the firing of neurons in the brain while they perform certain tasks (not related to racial trauma) in order to gain an understanding of the functioning of brain regions that are impacted by stress and trauma.
Understanding why we develop the way we do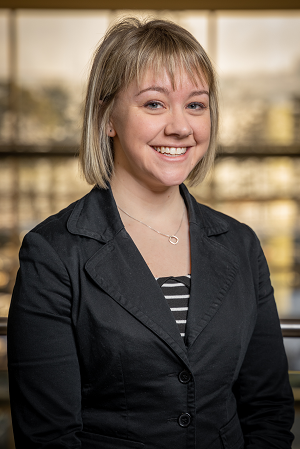 MSVU associate professor of psychology Dr. Christine Lackner was a faculty advisor to Noémie for the project, which is pretty much a perfect match for Dr. Lackner's research interests and expertise.
"I'm a developmental neuroscientist. I study individual differences in the brain, and individual differences in behaviour across development," said Dr. Lackner. "What makes each of us uniquely us is some combination of life experiences and genetic and biological predispositions and, of course, they interact with each other really strongly. I've been focusing on environmental experiences that, in part, determine why we develop the way that we do."
She says that while the study has the goal of gaining a greater understanding of the impacts of racial trauma, Noémie and team have already realized a secondary but equally important outcome related to how EEG technology is used with communities of colour.
Considering communities of colour in medical technology creation
Noémie explains: "With the EEG cap, the electrodes are embedded into the cap, and they have to be really close to the scalp to be able to pick up the electrical signals from the brain. The extra challenge we have when we are investigating people from communities of colour is that we may have very thick, curly, coarse hair, depending on the individual. It's a very common phenotype in the community. So those caps don't work on us, and we had to find a way around that."
She says the finding was an eye-opener for her as a researcher, and an example of the types of blind spots that can arise when communities of colour aren't involved or considered in medical technology development.
"We reached out to an engineer out of Carnegie Mellon University named Arnelle Etienne. She's a Black engineer, and she noticed the same issue with hospital patients who were going for EEGs. So, she developed little butterfly clips. You insert them between cornrows and then place the electrodes in them, and the cornrows are what holds the electrodes to the scalp instead of having a cap," says Noémie. "She was really open to collaborating with us and she sent clips for us to try."
Recognizing external factors affecting lives and outcomes
While Noémie's 'Effects of racial stress on cognition' project started out with a focus on Black participants, it has since expanded to encompass all BIPOC (Black, Indigenous and People of Colour) communities. This expansion in the population that is eligible for the study recognizes that individuals from communities of colour all experience the effects of race-based stress to varying degrees (with examples including Islamophobia, Indigenous residential school survivors and the discoveries of unmarked graves at former residential school sites, and more than 1,600 race-motivated hate crimes reported by Statistics Canada in 2020). And, although Noémie has completed her thesis and moved on to new pursuits at another lab, the project is ongoing thanks to funding from the Natural Sciences and Engineering Research Council (NSERC) and the efforts of MSVU Research Assistant Nicholas Hickens.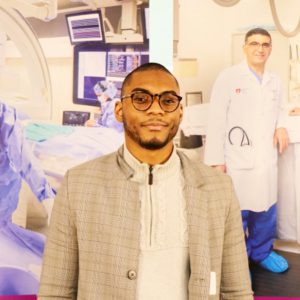 "The literature is missing a lot of intersectionalities and race-based data that really contextualizes the experiences of individuals. That was an intriguing concept for me that I thought should be a part of the research," says Nicholas, who is now coordinating the study. Nicholas, who holds a Bachelor's degree in Biology, Biochemistry & Molecular Biology from Dalhousie University, sees the value of accounting for qualitative factors or contexts in the quantitative analyses within scientific research. He adds "I think it's essential that we start to look at quantitative and scientific research as a combined effort where we're recognizing external factors affecting the lives and outcomes of patients and individuals, instead of just focusing on the outcomes without seeing how they got there."
Study continues, but already creating learning opportunities
At this time, the project continues, and new data are still being collected. Due in large part to pandemic restrictions over the period the study has been underway, there haven't yet been enough participants to provide an adequate sample size to confirm the research team's initial hypotheses related to racial stress. But even though it's ongoing with no official findings to share yet, the project has already created significant learning opportunities – including for Dr. Lackner. She told Noémie and Nicholas they've provided her with an important new perspective that will shape her work moving forward.
"They should be really, really proud of what they've done. They've opened my eyes to a lot of things. Every research ethics application I put in now indicates that participants will be screened for hair type and may have to have their hair cornrowed. It's changed the way I'm not only doing research on race, but the way I'm doing all research," says Dr. Lackner.
Additional participants welcome
The 'Effects of racial stress on cognition' study is still welcoming more participants, with all members of BIPOC communities invited to take part. Those who participate are compensated for their time, travel expenses, and – dependent on hair-type – expenses associated with having their hair cornrowed prior to the EEG session. Learn more about taking part by watching this video and getting in touch with the project team at brainwaves@msvu.ca.