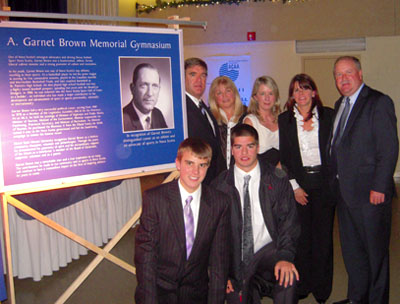 Mount Saint Vincent University honoured A. Garnet Brown at the 2011 student awards dinner on Thursday, March 24. Brown was a distinguished businessman, Liberal cabinet minister and one of the strongest advocates for sport in Nova Scotia. 
Born in Halifax in 1930, Garnet Brown was the President and Director of A.G. Brown and Son for close to 50 years. During his years as President, he was connected with the successful launch of many brands in Atlantic Canada. As a member of the Nova Scotia Heritage Hall of Fame, Garnet Brown was a lead hand in establishing Sport Nova Scotia, making this province the first to have a sport governing body.
Garnet Brown was a generous supporter of Mount Saint University. He was a benefactor, supporter, volunteer and parent. In addition, Garnet was a former member of the Mount Board of Governors, and was instrumental in establishing the Margaret Reardon Brown Jubilee Scholarship program.
As a testament to his achievements and contributions to the University, the Mount will be recognizing Garnet Brown by renaming the annual student awards banquet and the campus gymnasium in his honour.
"Garnet Brown was a remarkable man and a true inspiration," says Dr. Ramona Lumpkin, President and Vince-Chancellor of Mount Saint Vincent University. "The contributions he made to our community, our school and to sports in Nova Scotia will continue to have a tremendous impact on the lives of inspiring athletes for years to come."
The newly named A. Garnet Brown Student Awards Night Banquet, hosted by the Mount Saint Vincent University Student's Union, highlights the achievements of Mount students and athletes. This year's celebration included a special presentation in which the Brown family unveiled the design of a plaque to be placed outside the A. Garnet Brown Memorial Gymnasium. 
"This is a tremendous and wonderful tribute to my dad," says Bob Brown, son of A. Garnet Brown and member of the Mount Saint Vincent University Board of Governors. "Our family is so happy to be a part of tonight's event. We hope to take part for many years to come."