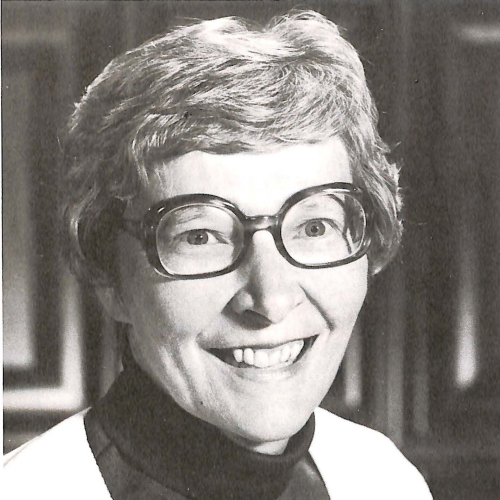 The late Dr. E. Margaret Fulton's continued passion for education and the advancement of women throughout her time as the university's sixth President has shaped the Mount into the institution it is today. In 2013, she was named President Emerita for her exceptional distinguished service to the University during her presidency. Today, a major building on campus bears her name: the E. Margaret Fulton Communications Centre (or EMF) houses the Library, Learning Commons, Counseling Services, Accessibility Services, IT&S and the Digital Media Zone.
Dr. Fulton began her career as an educator in the early 1940s in rural Manitoba in a one-room schoolhouse before moving to Ontario to teach. During this time, she began to upgrade her education and completed degrees from the University of Manitoba (B.A.), the University of British Columbia (M.A.) and the University of Toronto (Ph.D.).  She then spent several years teaching at the Waterloo Lutheran University before accepting the position of Dean of Women at the University of British Columbia in 1974.
In 1978, she came to Halifax to take up the position of President of Mount Saint Vincent University. She was the first non-Catholic woman in the role. Throughout her time at MSVU, she was the only female President of a co-educational university in Canada. Under her leadership, the Mount made education more accessible by becoming the first university in Atlantic Canada to offer televised courses. She was instrumental in creating the first Chair of Women's Studies in Canada, the first Co-operative Education program in the Maritimes, and the capital campaign to fund the construction of the Rosaria Student Centre on campus.
As a well-known educator, social activist and feminist, Dr. Fulton was recognized nationally and internationally for her efforts. She was awarded 15 honorary doctorates, became an Officer on the Order of Canada in 1985, and received the Queen Elizabeth II Golden Jubilee Award (2002) and Queen Elizabeth II Diamond Jubilee Medal (2012). She served as the Vice-Chair of the Women's World Summit Foundation, an organization dedicated to furthering the education, health and equality for rural women. In her later years, she became an advocate for seniors' health and served as the Chair of the Seniors' Advisory Committee in British Columbia.
---
MSVU's history is rich with the stories of countless people who've had an impact on the university and in the broader community.
Over the course of 2023, we'll feature mini stories about 150 MSVU students, faculty, staff and alum. Check back often to meet more amazing MSVU people!