John Carnaghan may not be a student, faculty, staff member or alumni of Mount Saint Vincent University, but he's as much a part of the MSVU family as anyone, in particular a cherished member of the MSVU Athletics and Recreation family.
John is retired and has been coming to the Mount Fitness Centre (open to the community!) for 17 years to workout and socialize with other members. It's a space that feels like home for him; ask anyone at the fitness centre and they'll know John's name.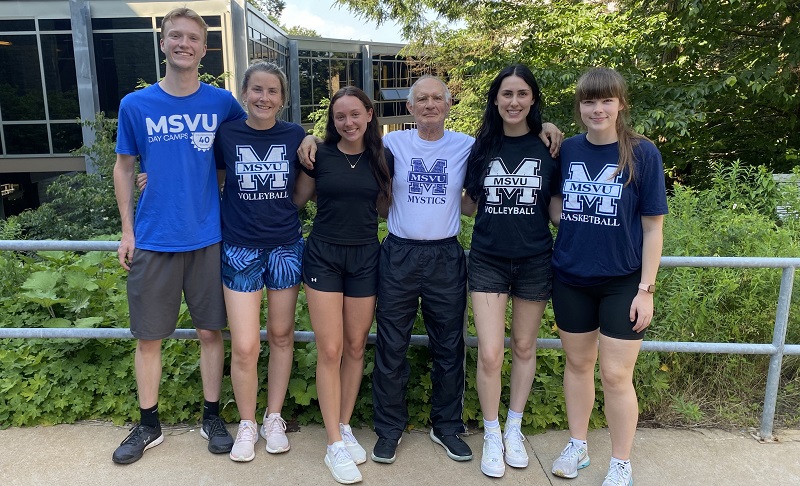 Through his near daily visits and kind and caring approach, he's gotten to know many of MSVU's fantastic students, staff and faculty – in fact, he takes the time to get to know everyone he meets. To many students and varsity athletes, he's become like an uncle: he knows them by name, stays on top of varsity team results, and always offers encouraging words.
In March of 2023, John watched online as the MSVU women's and men's basketball teams competed at the ACAA Basketball Championships at St. Thomas University in Fredericton, New Brunswick. During their trip, a storm blew through Halifax and John knew that many of the athletes had left their cars on campus, travelling on the team bus to their games. When the women's team captured the title, he was so proud and wanted to help. John knew that the students would be tired as they returned home and didn't want them to face vehicles buried in snow. Before their bus got back, he made the trek to the MSVU campus and shoveled out 14 cars belonging to student athletes. It was a deeply appreciated gesture.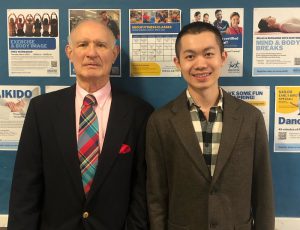 In May of 2023, a student invited John to attend his convocation – an invitation John was honoured to receive. They met at the MSVU Fitness Centre, chatting daily and building a friendship. The student's family was located in China and unable to attend the ceremony. John described being overwhelmed with pride and joy as he watched his friend – and the many other students he had come to know – cross the convocation stage.
To say thanks for his support, the Athletics & Recreation office invited him to their most recent athletics banquet. They were thrilled to celebrate another successful year with one of their biggest champions.
---
MSVU's history is rich with the stories of countless people who've had an impact on the university and in the broader community. Over the course of 2023, we'll feature stories about 150 MSVU students, faculty, staff and alum. Check back often to meet more amazing MSVU people!