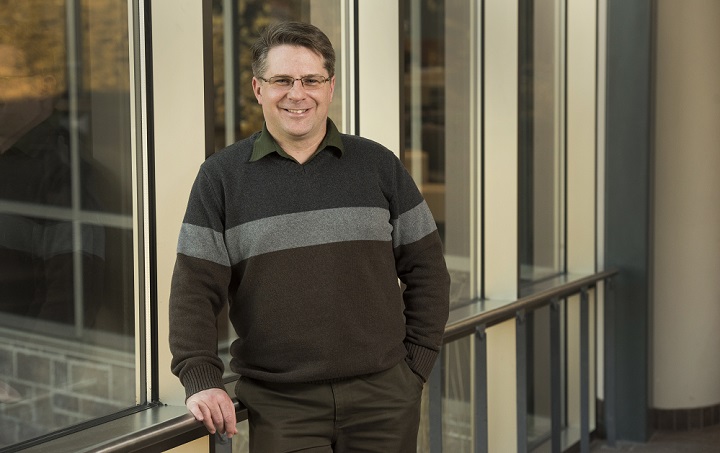 September 21st is World Alzheimer's Day. It is the focus of World Alzheimer's Month and a day for raising awareness about Alzheimer's disease and other forms of dementia.
As the most common form of dementia, Alzheimer's disease affects millions of people worldwide. A major obstacle in treating the disease is not having an accurate early diagnosis. And though prevalent, the causes of and cure for Alzheimer's disease remain unknown. As such, modern medicine still lacks the ability to give an accurate early diagnosis and curative processes.
But researchers at MSVU and partner organizations are working to change that. Dr. Ian Pottie, Professor of Chemistry and Physics at MSVU, has been working with Dalhousie researcher Dr. Sultan Darvesh for almost 14 years to develop a new type of diagnostic agent to advance the fight against Alzheimer's disease. Up until now, only brain autopsies have been able to confirm a patient's Alzheimer's disease diagnosis. However, Drs. Pottie and Darvesh's research shows promise for a non-invasive diagnosis while patients are still alive – and treatable.
This collaborative research program is tackling the problem using chemistry techniques for preparing possible new imaging agents that target butyrylcholinesterase, an enzyme that associates with amyloid-Beta plaques and neurofibrillary tangles characteristic of Alzheimer's disease. The key is a small radioactive molecule, synthesized to bind to a protein associated with the pathological structures within Alzheimer-stricken brains. The team has put countless hours into testing hundreds of compound variations.
The groundbreaking research conducted by Dr. Pottie and Dr. Darvesh holds the potential for earlier diagnosis of the disease in living patients, leading to a potentially significant difference in disease management and quality of life for patients and their families. They describe their innovation as something that has "never been done before" and holds the potential to completely transform the diagnosis and treatment of Alzheimer's disease.
In 2019, Dr. Pottie and Dr. Darvesh were awarded $281,897 through new John R. Evans Leaders Fund (JELF) awards from the Canada Foundation for Innovation (CFI) to advance this research. This funding enabled the addition of a 400 MHz nuclear magnetic resonance (NMR) spectrometer to Dr. Pottie's lab at MSVU. The NMR spectrometer facilitated the required detailed analysis of possible diagnostic agents being evaluated in the MSVU laboratory.
Dozens of undergraduate and graduate science students from MSVU and Dalhousie have contributed to the project over the years. Throughout the research process, the doctors have relied on undergraduate students to help. "Students have played a very important role in this work," said Dr. Pottie. "Students have been propelling this research for years, through summer and co-op work placements, honours theses, and classroom work."
The team is currently working towards clinical trials. That work includes reducing side effects, ensuring molecules cannot be metabolized by the blood (i.e. increasing bioavailability) and increasing the compound's effectiveness in passing through the blood-brain barrier (i.e. getting it successfully into the brain).
The team's research has been supported by Research Nova Scotia, the Canadian Institutes of Health Research, and the John R. Evans Leaders Fund (JELF) from the Canada Foundation for Innovation (CFI).