Update
Congrats to team Tru Blu on their third place finish at this year's hotelNEXT competition.

Said team member Hameed Mohamed:
"The competition was great. We came third place and we managed to network with many great hotel investors and CEOs. This was a great experience and we have learned a lot from this competition. This experience will never be forgotten."

Well done. You did the Mount proud!


Original story: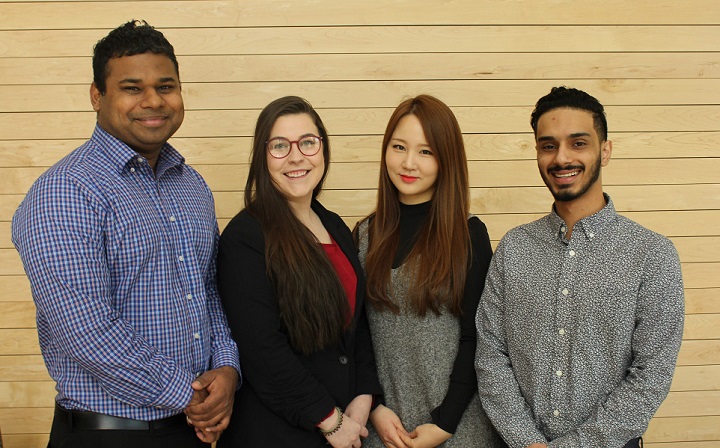 Mount student team among top three in the country
A team of Mount Tourism and Hospitality Management students is set to compete at the national #hotelNEXT competition in Toronto on April 24th. The annual event will take place at the Canadian Hotel Investment Conference (CHIC) which brings together hundreds of North America's hotel industry leaders.

The conference chose the top three student teams to attend from a pool of national submissions, each presenting a different hotel renovation-based business case – the winner gets a cash prize. "It's the biggest job interview of their lives," says Tourism and Hospitality Management professor Dr. Candace Blayney.

This is not the first time a Mount team has reached this level in the competition (now in its third year). In 2016, Mount Tourism and Hospitality Management students Sarah O'Connor and Evangeline Sing placed second overall with their pitch of a wine-culture inspired hotel for the Annapolis Valley.


The ultimate challenge
Students Hameed Mohamed, Sara Mofford, Dulendra Sonnadara and Sohee Park will be representing the Mount at the conference. Their case was created as an assignment for their Accommodations and Leisure Management course taught by Dr. Blayney. The students describe the project as a "big effort", requiring many long nights in the Mount library to perfect.


"We wanted each of us to have equal understanding of every aspect of the case," says Sara. "It may have taken longer for us to complete the project initially, but that strategy has made us stronger as a team."

Their final pitch is based on demolishing an existing Halifax hotel and re-branding under the international chain Tru by Hilton (which is also the inspiration behind their Mount-spirited team name, "Tru Blu"). The hotel would be rebuilt to include 98 rooms and feature unique ties to local businesses and community. Beyond that, the team is tight-lipped. They're keeping the details of their pitch under-wraps until competition day, but did reveal that their idea is truly "one-of-a-kind"; Hilton representatives will be in attendance to hear their pitch.

Hameed is confident in the group's chances in the competition. "We really dedicated ourselves and put all our effort in," he explains.

"It is a huge challenge," adds Dulendra. "But we have brought our best to it."

The group is very grateful to Dr. Blayney (pictured with student team members below) for her support and mentorship throughout the process. "Dr. Blayney gave us this opportunity and has always being willing to help," says Hameed. "She gave us tons of information to help us put this together," adds Sara.

The team is also benefited from the support of Mount finance professor Dr. Mohammad Siddiquee. "Strong financials is a big part of what investors are looking for," explains Dr. Blayney. "We were grateful to have his help perfecting the numbers."
A network of support
As part of the competition guidelines, CHIC encourages teams to network in their community to receive support creating their pitch. The team took this advice to heart, meeting with local industry representatives who provided tours of hotels, expertise and time to answer the students' questions as they built their pitch. "Everyone has been willing to help us every step of the way," Sara notes. With three of the four group members set to graduate this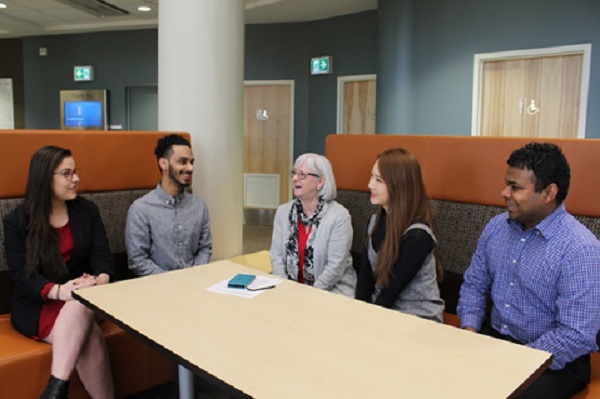 May, the team is thrilled to have worked with some of the top tourism industry leaders in the Maritimes and beyond.


The group continues to focus on perfecting their presentation as they head into the homestretch to competition. And they are grateful for the time spent together, noting that they're glad to be sharing the experience with one another not only as classmates, but also as fellow graduates and friends.
"It has made a big impact on me," says Sohee. "It has been an unforgettable memory for my final semester of university."
Best of luck team Tru Blu! The Mount is cheering for you.
---
The team would like to thank the following community leaders for their tremendous help with their project:
Big Picture Conferences, organizers of the #hotelNEXT competition
John Squires, Vice President Operations and Development for Crescita Hotels and Development
Mark Schaay, General Manager of Alt Halifax and St. Johns
David Clark, General Manager of Atlantica Hotel Halifax
Frank Leleune, General Manager of Courtyard Halifax Downtown
Kathy Perrier, General Manager of Holiday Inn Express & Suites Halifax-Bedford