This story originally appeared on Innovation.ca, the website of the Canada Foundation for Innovation.
Canada's long-term care sector was already struggling when COVID-19 hit. The consequences have been heart-wrenching. Residents with dementia who couldn't understand why their loved ones stopped visiting. Children who couldn't be by the sides of their dying parents.
"It's so tragic," says Janice Keefe, who chairs the family studies and gerontology department at Nova Scotia's Mount Saint Vincent University.
But Keefe is well positioned to encourage change. She knows decision makers need robust data to understand the scope of the problem and craft effective policies. That's why she launched the Maritime Data Centre for Aging Research and Policy Analysis as part of the internationally recognized Nova Scotia Centre on Aging in 2003, with funding from the Canada Foundation for Innovation.
Data that makes a difference for long-term care centres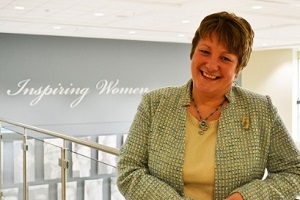 Keefe's goal was to consolidate existing data in one place and add to it with their own research, including surveys, focus groups and interviews.
Over the past 17 years, the centre's research has shaped evidence-based policies on aging in Nova Scotia, New Brunswick and Prince Edward Island. For example, their research helped inform the creation of Nova Scotia's family caregiver allowance. Their analysis of wait times for long-term care homes led to a shift in provincial policy. Meanwhile, a study on factors that affect residents' quality of life convinced several homes to change how they measure staff performance.
That kind of research fills a big gap in a sector that currently lacks data. "It's incredibly important," says Vicki Elliott-Lopez, Senior Executive Director of Continuing Care for Nova Scotia's Department of Health and Wellness. "More and more, government wants to move toward evidence-based decision making."
COVID-19 impact on long-term care centres magnifies the issues
In 2018, the Nova Scotia government invited Keefe to chair an expert advisory panel on long-term care. Their report painted a picture of a system under stress. According to Keefe, the sector is the Cinderella of healthcare. "There's a lot more attention, funding, support, preparation given to acute care than long-term care," she says.
So when COVID-19 hit, many facilities struggled to cope. "[It] really just caused those cracks in the systems to become major chasms," says Keefe. Over the first two months of the pandemic, 81 percent of Canadian COVID-19 deaths occurred in long-term care — double the average of other OECD countries, she adds.
Ageism, sexism and fragmentation helped exacerbate the challenges in long-term care facilities
"People say, well it's only old people," Keefe notes. Those ageist attitudes, she argues, have contributed to a system where facilities are under-resourced and careers in the field lack prestige.
Indeed, some of the biggest weaknesses revolve around staffing: too few people, many juggling casual jobs at multiple facilities, who are overworked, undertrained and underpaid. "It's often considered women's work," Keefe says, pointing out that 90 percent of care home staff is female. "It's not valued."
The pandemic also highlighted just how much work is done by family members — again, overwhelmingly women — who spend many hours each week looking after loved ones in care facilities.
Keefe describes other problems as well. The Canada Health Act doesn't ensure universal long-term care. There are no national standards, and accountability structures can be fragmented. In Nova Scotia, for example, one branch of government sets policies for long-term care, while a different branch delivers services.
Heeding the call to address lingering problems in nursing homes
Keefe contributed to the Royal Society of Canada's COVID-19 working group on long-term care, which made a number of recommendations to solve the workforce crisis in nursing homes, including implementing national standards for things like training and resources for infectious disease control in nursing homes and sick leave for personal support workers. But there are more questions she wants to tackle.
One is how to balance risk of infectious disease against residents' quality of life. "How do we manage that? How do we ensure that their loved ones, the people that give them joy, are somehow able to continue to have a presence in their lives during this time?" she asks. "That's critical."
According to Keefe, examining how we care for our older citizens is going to be more important than ever as the number of seniors in Canada continues to grow and demand for long-term care rises.
She hopes the attention that COVID-19 has focused on long-term care will lead to improvements. "I think it's very helpful to have attention placed on the sector," Keefe says. "But it's only helpful if some positive changes are made."
In the meantime, the Maritime Data Centre and the Nova Scotia Centre on Aging will continue providing much-needed insights and statistics. It will continue training new generations of researchers and shifting attitudes about our elderly populations and how we care for them. And it will continue working to shape policies that will help improve the system.