On Tuesday, November 18, 2014, the Mount Saint Vincent University community gathered to celebrate the official opening of a wonderful new student learning space. The new Mount Learning Commons is located on the main floor of the Mount library, within the E. Margaret Fulton Communications Centre.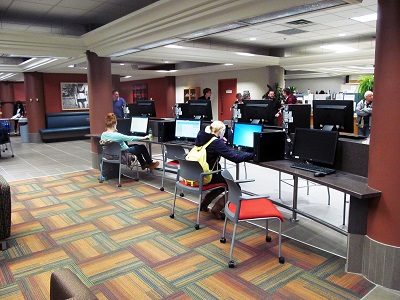 Learning Commons are growing in popularity in universities for their positive impact on the capacity of libraries and partners to provide learning support and services to students.

"A Learning Commons has been a goal of ours for quite some time," said Dr. Ramona Lumpkin, CM, President and Vice-Chancellor of Mount Saint Vincent University. "There is increasing need among students for more flexible learning environments; as well, the profound effects of technology on education and changes in how professors teach and how students learn require support reflected in the campus environment."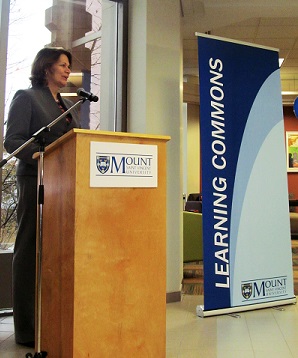 In March of 2013, the Nova Scotia Department of Labour and Advanced Education awarded Mount Saint Vincent University a grant from its Excellence and Innovation Fund that would help make this dream a reality.

The spring and summer of this year brought an intense period of renovations, a challenge in the middle of a busy university library. But with the help of some very skilled construction partners and extremely patient students, faculty and staff, the Mount now has a wonderful new flexible, integrative and open learning and gathering space to show for it.




Creating a new campus hub
Among the featured of the new space are: fewer walls dividing the space, new student meeting rooms, and reconfigured and expanded collaborative spaces generally, including the installation of new tables, comfortable chairs, computers, and places to recharge mobile technologies.

As well, scanners and photocopiers have been relocated to a new technology hub, and the Learning Commons features increased lighting, new flooring, painted walls, pieces from the Mount Art Gallery, and furniture chosen for its accessibility and adaptability.

The Learning Commons space within the Mount library will also be connected to the university's new Margaret Norrie McCain Centre for Teaching, Learning and Research. Set to open in the spring of 2015, the pedway connecting the main library floor and the McCain Centre will position the Learning Commons as an even more essential gathering place on campus.


Students already embracing the space
Said Paul Whyte, President of the Mount Saint Vincent University Student's Union, "We, the students, spoke about this need [for a learning commons], and we received a response. There is nothing more satisfying to me than to see the student voice being acknowledged and embraced. I look forward to the innovation this space will foster."

The Mount's new Learning Commons is being adopted enthusiastically by students. It is already evident that this space is enhancing student educational experiences by responding to their changing needs and offering improved spaces to support learning.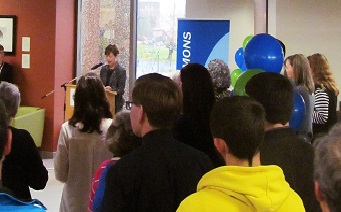 Of course, a Learning Commons must always be responsive to the needs of students and the Mount looks forward to its evolution as the needs of students evolve. "We are always open to the feedback of our students and encourage you to continue to link with us so we can ensure the continued responsive of this space," said Dr. Lumpkin.

The event to open the Mount's new Learning Commons was emceed by Tanja Harrison, University Librarian, and a major champion of the initiative. In addition to Dr. Lumpkin's address, it featured remarks by Ava Czapalay, Senior Executive Director with the Nova Scotia Department of Labour and Advanced Education and Paul Whyte, President of the Mount Saint Vincent University Students' Union.