In the early hours of January 31, 1951 – one of the coldest nights of that year – a fire was discovered in a storage area adjacent to the kitchen in the Motherhouse portion of Mount Saint Vincent's main building at the time. The flames could not be contained, and the fire spread throughout the whole building which included the Academy, College, administration offices, the Sisters of Charity Motherhouse, the Novitiate and the Chapel.
Firefighting equipment did not operate effectively in the freezing conditions and 400 people were evacuated from the burning building. Students took refuge in Marillac House and Saint Mary's Cottage where they watched their beloved Mount burn to the ground. Miraculously, nobody was injured during the ordeal, though many priceless documents and objects special to the Mount's history were lost.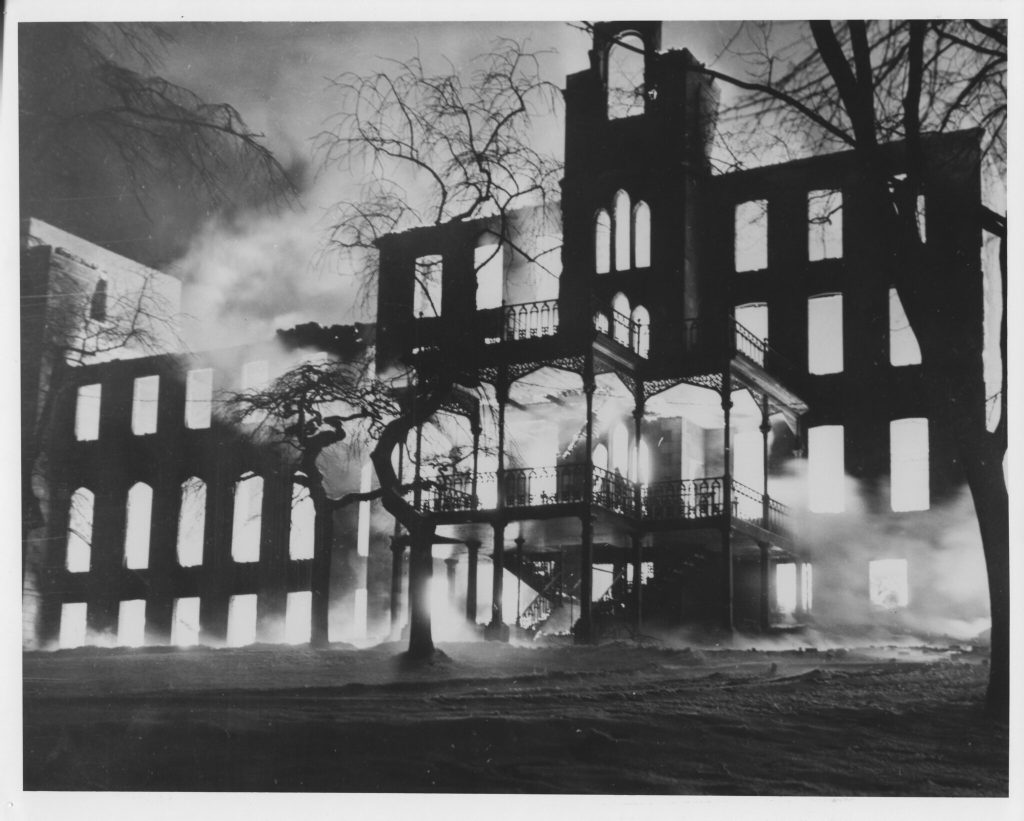 Halifax comes to the rescue
Across Halifax, people and businesses opened their hearts and their doors to provide students with spaces to live and learn.
One week after the fire, on 6 February 1951, College life began anew at "The Centre," a building in Halifax which formerly housed the Halifax Ladies' College on the corner of Barrington and Harvey streets. Some of the faculty lived at the Halifax Infirmary and Saint Theresa's Retreat and held classes there. Science courses such as chemistry took place in the classrooms of the Technical College and at Dalhousie. Music courses were taught in the CBC studio at the Nova Scotian Hotel. That spring, convocation was held in the ballroom of the Nova Scotian Hotel.
The Mount gives back
Caritas Day was established by the university's founders (the Sisters of Charity Halifax) as a day to pay forward the kindness that was shown to the Mount following the fire.
Every year, on the last Wednesday of January (January 25 this year), the MSVU community celebrates Caritas Day through charitable acts – from random acts of kindness, to giving gifts of time, talent and other resources. No classes are held on this day.
Students and faculty from MSVU's Business & Tourism Department have long been among the most dedicated to giving back on Caritas Day. This year, you'll find them lending a hand at the Parker Street Food and Furniture Bank, Prescott Group, MSVU Student Food Bank & Captain Crow's Café, among other places around Halifax.
Members of the MSVU community planning on volunteering their time this Caritas Day or throughout the year can check out VolunteerNS for information about organizations looking for help.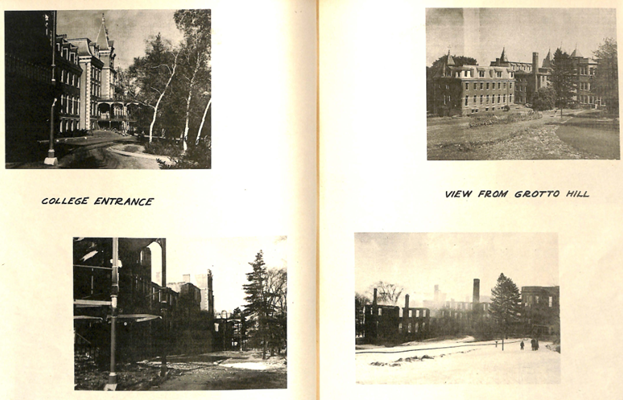 Mount Saint Vincent College before and after the fire of 1951