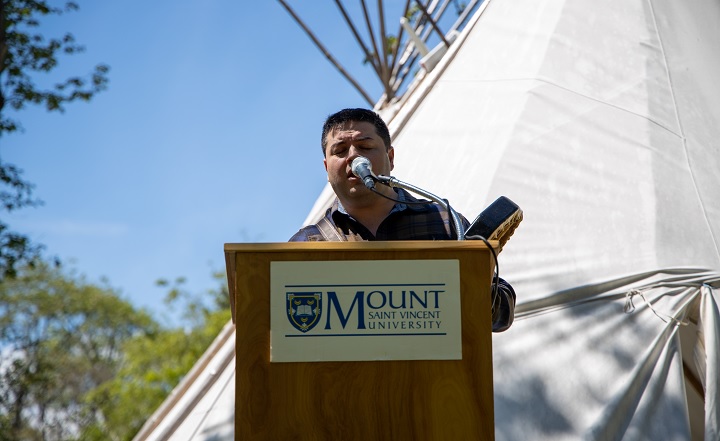 Raymond Sewell performing the Mi'kmaw Honour Song
---
At an event held at the Wikuom on the Mount Saint Vincent University campus today, June 20, 2019 – the eve of National Indigenous Peoples' Day – TD Bank Group announced a donation of $500,000 to the Mount in support of Indigenous students and programming.

"With this generous gift, the Mount will invest in people, programs and bursaries in support of Indigenous students," said Dr. Mary Bluechardt, President and Vice-Chancellor (pictured below, at the podium). "Thanks to TD Bank, we are improving supports for students, expanding programming and furthering our collaborations with Indigenous communities – always taking a 'with community, by community' approach."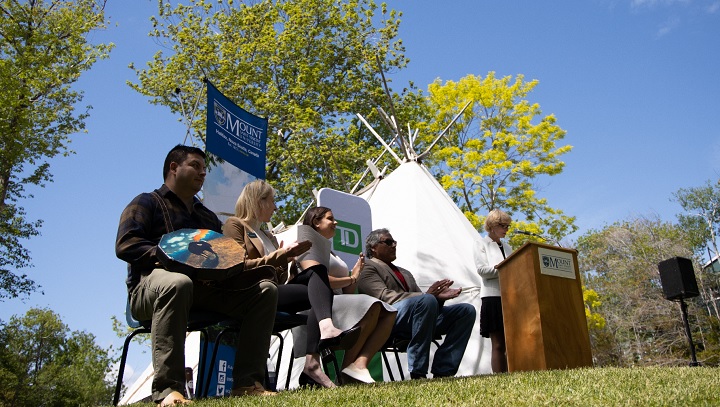 Specifically, with this support, the Mount will:
Benefit from the leadership of a Special Advisor to the President on Aboriginal Affairs.

The Mount's special advisor (Patrick Small Legs-Nagge) will provide support to Aboriginal learners through the student life cycle and strategic direction on Aboriginal Affairs, and help in the development of initiatives, programs and policies that respond to student, Aboriginal community and institutional needs.

Establish a new TD Aboriginal Student Bursary that will provide financial assistance for Aboriginal students.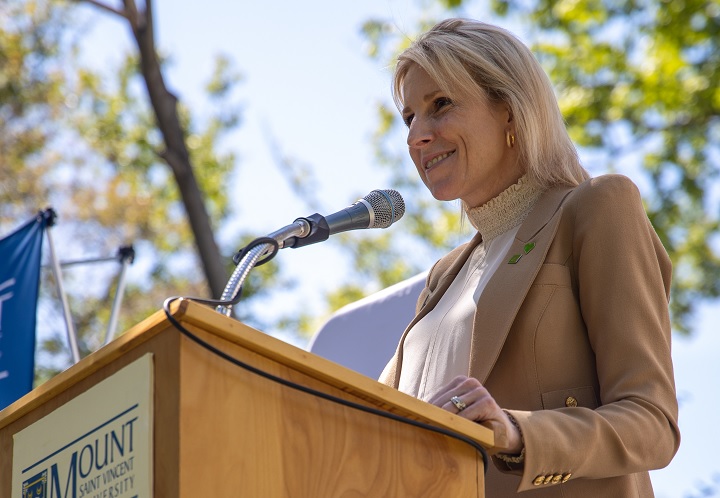 Jennifer Auld, Vice-President, Atlantic Region – TD Canada Trust (pictured above), spoke of her organization's community giving strategy, known as The Ready Commitment. As part of that strategy, she announced a combined total investment of $1.2 million over the next ten years in Indigenous student programming at the Mount, Memorial University and Acadia University.
"We have searched out programs and initiatives that generate understanding and engagement, strengthen relationships, and provide products and services that contribute to the prosperity of Indigenous communities today, and for generations to come," Jennifer said. "We will be watching with pride as these programs take shape and students begin to soar."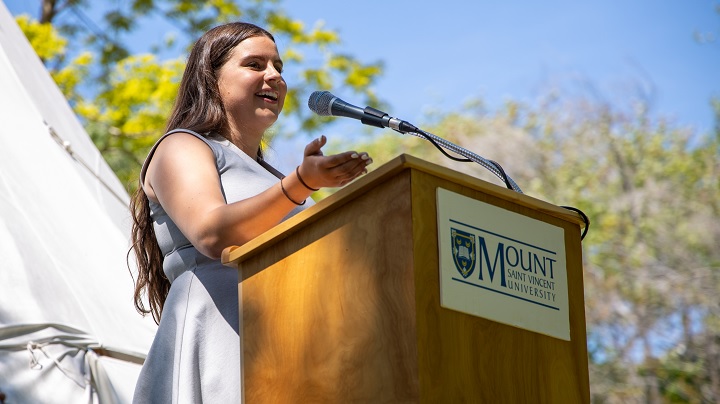 Mount Child & Youth Study graduate student Samanth Rioux
(pictured above)
shared her story as an example of the critical importance of Indigenous student supports to overall student success. "I've had the amazing experience of being able to write about and study a topic that has always been near and dear to my heart: Indigenous youth and their experiences with the Youth Criminal Justice Act. This would not have been possible if it wasn't for the Aboriginal Student Centre and open mindedness of my supervisor, the Child and Youth Study Department and the university as a whole," she said.
"The support and guidance I have received at the Mount have been overwhelming – I've had opportunities that I never previously would have thought possible. I want to thank TD for what they are doing for Indigenous students. Their generosity will change the experiences of Indigenous students at the Mount in many positive ways."
The Mount has a strong commitment to supporting Indigenous students and collaborating with Indigenous communities – a commitment that is embodied in a diversity of initiatives across University people, programs, infrastructure and policy.