A message from Patrick Small Legs-Nagge, Special Advisor to the President on Aboriginal Affairs 
Today, May 5, is Red Dress Day: National Day of Awareness of Missing and Murdered Indigenous Women, Girls and Two-Spirit People. On this day, we wear red to draw attention to the more than 1,000 missing and murdered indigenous women, girls, and two-spirit people in Canada.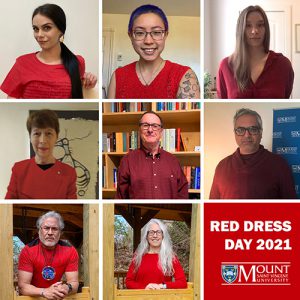 Red Dress Day was borne out of the ongoing art project called The REDress Project by Jaime Black, a Métis multidisciplinary artist based in Winnipeg. The red dresses act as a visual reminder of those who are missing or who have been murdered.
I invite you to check out the short docu-drama Protect Our Future Daughters that educates viewers about the Missing and Murdered Indigenous Women (MMIW) of Canada and The REDress Project.
You can also find information about, and visuals from, the powerful Walking With our Sisters exhibit that was shown at the MSVU Art Gallery in 2017.
Finally, I encourage you to wear red today to raise awareness about this important issue in our country and beyond.
Pictured: Jesse Sutherland (MSVUSU President), Jasmine Tang (MSVUSU VP Communications), Alyssa McIntyre (Aboriginal Student Coordinator), Dr. Ramona Lumpkin (Interim President & Vice-Chancellor), Dr. Brook Taylor (Interim VP Academic), Mustansar Nadeem (VP Administration, Patrick Small Legs-Nagge (Special Advisor to the President on Aboriginal Affairs), Caryn Small Legs-Nagge (Harassment & Discrimination Advisor)
---

We're committed to Truth and Reconciliation. Learn more about this MSVU Strategic Plan Theme »