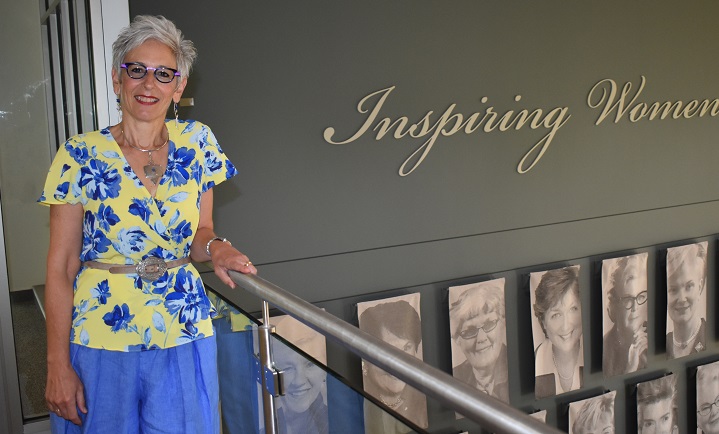 Meet Dr. Janet Conway
MSVU has long been committed to the advancement of women. It is with great pleasure that our community welcomes another inspiring woman to the role of Nancy's Chair in Women's Studies, Dr. Janet Conway.

The Nancy's Chair was established at MSVU in the mid-1980s by former Senator and philanthropist Nancy Ruth, CM, and enables the University to host distinguished scholars and activists who have contributed to the advancement of women. Janet brings to the role much enthusiasm for social change and commitment to some clear goals.
Born and raised in St. John's, Newfoundland, Janet has enjoyed returning to the East Coast after having lived in Toronto for many years. Prior to coming to MSVU, Janet was a Tier II Canada Research Chair in Social Justice at Brock University, as well as was founder and Director of the Social Justice Research Institute. She is the author of three books and many peer-reviewed articles and book chapters.
After a decade as a Canada Research Chair, Janet was reflecting on her personal and professional goals when she came across the Nancy's Chair position.
"I was at a point where I was finishing up a lot of projects and beginning to think about new ones. I was ready for new initiatives, new places and new people. The Nancy's Chair position is unique in that it brings people from outside the MSVU community, both nearby and faraway, to bring new perspectives into this community. The potential is there for the Nancy's Chair to be a source of new energy, inspiration and initiatives. This is exciting for the incumbent and the institution," she says.
Janet has hit the ground running in her new role. Only weeks in and she has already established two key areas of focus.
---
"The Nancy's Chair position has a strong public mandate. There is a strong impetus to speak to the world beyond the university but from the base of what MSVU stands for."
— Dr. Janet Conway
---
Supporting Indigenous communities
Janet plans to continue to build on the work she has done to support Indigenous movements, in particular defending Indigenous lands against resource extraction. "I have worked for many years exploring relations between Indigenous movements and 'the left', and studying the problems of colonialism in social justice movements. They are trying to be in alliance with Indigenous struggles but don't often realize that they are perpetuating colonialism," she explains.
At the heart of this work, Janet is looking to build connections with Indigenous communities in the region to understand local struggles and how she can provide support. "Right now, I'm in listening mode and learning mode. I feel privileged to have made connections with faculty and staff on-campus who will be key collaborators in this endeavour."
Discerning political dynamics and the importance of critical thinking
Conway's second focus is centred on a collaborative research project that is already underway. She is working with Jakeet Singh at York University on the global politics of free expression, as "free speech" claims are weaponized by the right to discredit claims of historically marginalized communities. More specifically, Janet is examining how feminism, as well as women and gender studies, are a target of the new right. "I'm looking to connect with others in Gender Studies in the region and would like to start speaking more publicly about this topic in the coming months."
As part of this work, Janet is also developing a new course for MSVU called Anti-Feminism and Global Politics – it will launch this fall. Her hope is that the course will get students to think critically about the gender politics of the right and to help them discern political dynamics in their own world. "This is a topic that is at the forefront. It is happening locally, in the news, within the Trump administration, and on social media. I want students to be able to see it, know what it is when they see it, and to be able to contest it."
Janet has done extensive work focused on the politics and discourses of social justice movements, examining how these movements have repeated things like racism, sexism and classism without recognizing it. "These hierarchies get replicated in progressive political spaces."
In her current work, she is focusing on the conundrum presented by the right appealing to liberal protections like freedom of speech to advance their agenda. "Many social justice movements are rightly critical of liberalism for its unacknowledged exclusions, but they don't recognize how they take liberal rights for granted in conducting their own struggles. My work with Jakeet Singh is about critically examining liberal traditions from a de-colonial and feminist view, and developing better argumentation to contest the rising right."
Valuing knowledge in its many forms
It is evident that Janet hopes to learn, grow and bring value to her new role at MSVU. "The Nancy's Chair position has a strong public mandate. There is a strong impetus to speak to the world beyond the university but from the base of what MSVU stands for."
Janet has also been impressed and inspired by the many people who have held this position before her. "This position valorizes many forms of knowledge. There have been artists, activists and scholars who have occupied this position. This valorizes the many different modalities in which we can learn and share knowledge, which is very much in the tradition of Women's Studies."
When Janet isn't working, she loves to spend time outdoors hiking, biking, running, walking and swimming. She also loves art, listening to music from different regions of the world, and cooking. While she misses Toronto, Janet looks forward to visits from her friends, and to showing them the many treasures her new home has to offer.