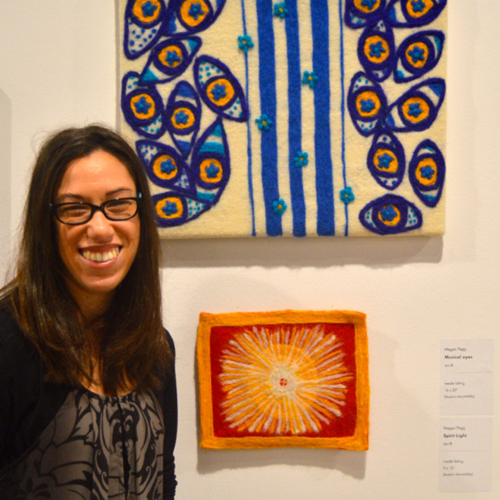 MSVU student Megan Pegg is a talented needle felting artist whose work has been showcased at the university's Art Gallery. This weekend, her work will once again be in the spotlight. Megan's artwork is the subject of a short film premiering at the Atlantic International Film Festival (AIFF) on Sunday, September 18 at 3:30 p.m. at Parklane Cinemas in Halifax.
"The film showcases [her] felting artwork that's developed over time into large-scale pieces that have been included in Mount Saint Vincent University exhibitions. She continues to meet the challenges of Cerebral Palsy, but does not allow this to slow her down or hinder her creativity." (AIFF)
Megan was introduced to art in 2009 through Team Possibles under the direction of artist Renee Forrestall. She has displayed her felting work in the Annual Mount Community show in 2017, 2018, and 2019 at the MSVU Art Gallery. Her other body of work includes drawing, painting, and photography.
A History student at MSVU, Megan is enrolled in the Mount Ability program – a pathway to university studies for students who self-identify as having a disability that might otherwise have been a barrier to university studies.
The documentary featuring Megan will air as part of the Atlantic International Film Festival's Atlantic Shorts Program 5. Get your tickets or purchase the online streaming option through the 2022 Atlantic International Film Festival website.
Congratulations, Megan!