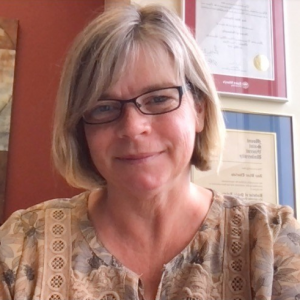 Mount Saint Vincent University Professor and Chair of Communication Studies Dr. Amy Thurlow has been nationally recognized for her work to advance a global standard for public relations professionals in Canada.
On September 21, Dr. Amy Thurlow and the University of Huddersfield's Dr. Anne Gregory received the Canadian Public Relations Society's Outstanding Achievement Award. The award celebrated "their efforts to launch the Global Capabilities Framework in Canada, thereby introducing a revolutionary new tool that allows public relations professionals to benchmark their skills and capabilities, and compare themselves to a global standard." Read the CPRS news release here.
"What an honor it is to be receiving this award. It's been a real privilege for me to work with Anne on this project, and in other capacities as our paths have crossed over the years. Her passion and commitment to the advancement of the public relations profession is contagious," said Amy Thurlow, PhD, APR, FCPRS.
"I would also like to recognize Alex Sévigny, PhD, APR at McMaster University and Mark Dottori, PhD, at University of Ottawa for their roles in the framework's Canadian research component. I must also acknowledge the work of Jean Valin, APR, FCPRS LM, whose work on the Global Body of Knowledge and other Global Alliance initiatives paved the way for the current framework. Lastly, thank you to CPRS for supporting and recognizing the importance of this work."
MSVU is a leader in Communication Studies, home to Canada's first English-speaking Bachelor of Public Relations degree program (established more than 40 years ago) and two graduate degree programs: the Master of Arts (Communication) and the Master of Public Relations. The university has been recognized for excellence in public relations education by the Canadian Public Relations Society, and boasts an impressive roster of faculty with interests ranging from social media and marketing to ethics, change management and more.
Congratulations on this well-deserved recognition, Dr. Thurlow!