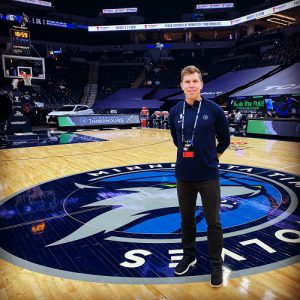 With the NBA pre-season underway, MSVU Applied Human Nutrition alum Luke Corey is gearing up for a return to the court.
In 2014, MSVU Applied Human Nutrition alum ('08) Luke Corey started working as a performance dietitian for EXOS, a world-leader in human performance, at Mayo Clinic Sports Medicine in Rochester, Minnesota. Little did Luke know there were even bigger things in store for him in the world of sports nutrition.
A life-long passion for sport
Fast forward a few years and today Luke also serves as team dietitian for the NBA's (National Basketball Association's) Minnesota Timberwolves. Luke works with a roster of 15 professional basketball players daily, providing them with nutritional support and dietary education to help these high-performing athletes reach their full potential. For Luke, the job is a dream come true – and one that requires much hard work.
Luke has always had a passion for sports. He grew up playing a variety of sports, including basketball, and kept his love for the game as the years passed. During his university career, Luke played on the Queen's University Men's Varsity Soccer team and coached the Mount Mystics Men's Varsity Soccer team for eight seasons. It was through his experience working with his own sports dietitian at Queen's that he realized that this was the career path for him.
Following his graduation from MSVU, Luke spent three years at Mayo Clinic Sports Medicine in Minnesota, followed by two years working with UCLA Health Sports Performance in Los Angeles, California. The opportunity to return to Mayo Clinic and work in the NBA came Luke's way in 2019. The upcoming new season start marks Luke's third year with the Minnesota Timberwolves.
The nutrition and performance connection
Luke loves his role with the NBA. "How can you complain about working with some of the best basketball players in the world?" he says.
His busiest days are game days where he is responsible for helping players prepare for the stress and strain of a long and physically demanding game. That begins with pre-game hydration testing, through which he quickly assesses the hydration status of a player and provides fluids and electrolytes to ensure players are fully hydrated. At half-time, Luke visits each player in the locker room to provide snacks and supplements to refuel and rehydrate for the second half. Once the game ends, he makes each player a custom protein drink to help them recover and recharge for the next game. And he does all of this on top of his daily duties at Mayo Clinic Sports Medicine where he helps athletes from a variety of sports recover from injury or surgery.
And though working for the NBA is a dream job, it is intense. "Game days are long. I usually start at 7:00 a.m. and don't get home until 11:00 p.m. Then it's back at it early the next day seeing patients in clinic or attending the team practice."
When asked about the most challenging part of his current work as a performance dietitian, Luke points out that sometimes the players don't recognize the importance of nutrition. He tries to make clear the link between nutrition and athletic performance, but some players take longer to buy into what he is saying. "Good nutrition can lead to good performances, but poor nutrition will always lead to poor performances," Luke says.
Continued connection to MSVU
Luke's passion for education shines through when talking about his Applied Human Nutrition degree from MSVU. He says it provided him with the knowledge and foundation he needed to pursue his career goals, "The Mount holds a special place in my heart, and I'll always give back to them whenever I can." Luke remains connected with MSVU faculty and fellow alum, and readily shares his experience and expertise with current nutrition students. "I enjoy it a lot. Being able to give guidance or help provide some inspiration to students is such a rewarding experience."
"Whatever you want to do, do it."
Luke's advice for someone just entering the Applied Human Nutrition program at MSVU is to work hard, take risks, make connections, create steppingstones, and never give up. "Being a student at the MSVU thirteen years ago, I could've never imagined I'd be where I am now," he says. And while his MSVU degree set him on the right course, the rest was up to him. "I worked my butt off for it," he says.
Luke reminds those in the program now to stick with it when things gets tough. "If you have a dream, follow it to the very end. Anything can happen. You never know where life can take you. It is always possible. Whatever you want to do, do it." Luke is perfect proof of that.