Members of the Mount Saint Vincent University community gathered from near and far to honour and celebrate three distinguished alumni and the immense impact they have had on the University, their communities, and the world.
During the Saturday, Oct. 15 Alumni Awards Brunch event, as part of Reunion 2022, the Alumni Association recognized three former MSVU graduates with the Community Service Alumni Award, Young Alumni of the Year Award, and the Diversity, Equity and Inclusion Alumni Legacy Award.
Alumni Community Service Award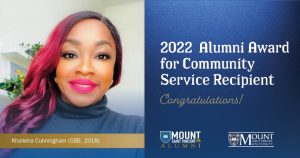 The Alumni Community Service Award honours a graduate who has made an outstanding contribution to their community, and is awarded based on distinguished professional achievement, outstanding contribution to the community at large or a particular field of endeavour, and igniting social change in the greater community.
The 2022 recipient of this Award is Khalieha Cunningham (CBB, '18). Khalieha is a native of the Bahamas and a resident of Halifax. She is an Accounting and Business Administration Professional, motivational speaker, and the Founder and President of the non-profit, Life Beyond The Hurt Organization. As a domestic violence survivor, Khalieha created the organization to focus on providing hope, resources and a safe space for anyone experiencing and/or overcoming some form of hurt in their lives. The organization's mission is to influence social and systemic change regarding domestic violence.
As a survivor, Kahlieha understands that everyone has a story and that those stories have the power to hold you back or push you forward. In Kahlieha's case, it has given her the drive and determination to give back to the community and create social change.
Diversity, Equity and Inclusion Legacy Award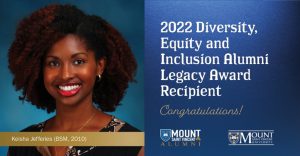 The Diversity, Equity and Inclusion Legacy Award, established in 2021, is the newest alumni award. It is presented to graduates who have demonstrated significant contributions to social justice, diversity, equity and inclusion, and who reflect the values of MSVU.
The 2022 winner is Keisha Jefferies (BSc, '10). Keisha is a Toronto-based African Nova Scotian, born and raised in New Glasgow, NS. She is a registered nurse and postdoctoral fellow in the Faculty of Education at York University. Her scholarly and advocacy work focuses on addressing anti-Black racism in nursing, inclusivity in post-secondary institutions, and health outcomes in Black communities.
Keisha's doctoral research, which was funded by Vanier Canada Graduate Scholarships, Killam Trust, Research Nova Scotia, Johnson Scholarship Foundation, BRIC NS and Dalhousie University, examined the leadership experiences of African Nova Scotian nurses and the implications for nursing practice and education. She is also a 2022 recipient of the prestigious Queen Elizabeth Scholarship.
Young Alumni of the Year Award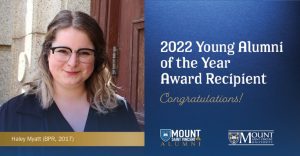 The Young Alumni of the Year Award recognizes alumni who have graduated within the last 10 years and who personify the values of social responsibility and equality, demonstrated by inspiring change in the
community in addition to their personal accomplishments. This year's recipient is Haley Myatt (BPR, '17).
While attending the Mount, Haley worked with the MSVU Students' Union and spent three years as Vice-President. After graduating, Haley completed her Masters of Law in International Human Rights at the University of Galway in Ireland. In her first year, she became an International Student Ambassador for Education in Ireland, received the University's Presidential Award for Volunteering and was a leader in the award-winning Welfare Campaign of the Year for a sexual health and guidance campaign.
In 2019, Haley began her second Master's degree, this one in Child and Youth Studies at Brock University. Since her first day at Brock, Haley has been heavily involved with the Graduate Student's Association, currently serving as President and Chief Executive Officer. Today, she continues to advocate for graduate students, additionally serving on Brock's Senate and Board of Trustees.
Congratulations to Khalieha, Keisha, and Haley and thank you for continuing to embody the MSVU spirit. We cannot wait to see what these three incredible and ambitious alum do next!