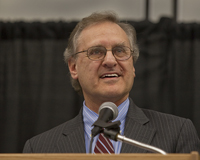 At Spring Convocation, Mount Saint Vincent University (the Mount) will honour two outstanding Canadians who have made remarkable contributions in our world, exemplifying the Mount's long standing commitment to advance social justice here in Canada, and abroad.
Stephen H. Lewis, humanitarian and esteemed diplomat, and Roberta Jamieson, First Nations activist, will receive honorary degrees at the Mount's Convocation ceremonies on May 20 and 21, and address more than 700 graduates from a wide range of disciplines in arts, science, graduate and professional studies programs.
"We are so proud of what our graduates have achieved during their time at Mount Saint Vincent University," stated Interim President and Vice-Chancellor, Alexa McDonough. "We are also thrilled to be welcoming these esteemed individuals who have made such a profound impact on our society. They are wonderful examples of how our newest graduates can make a difference in our world."
Mr. Lewis' contributions to global health and human rights have been celebrated around the globe, in particular his efforts to mobilize international support and attention to the AIDS pandemic in Sub-Saharan Africa. He served as United Nations Special Envoy for HIV/AIDS in Africa from 2001-2006. He currently chairs the Stephen Lewis Foundation in Canada which, since 2003, has funded more than 300 projects in 15 different countries in Africa. He is also co-director of AIDS-Free World in the United States and a member of the Board of Directors of the Clinton Health Access Initiative and the International AIDS Vaccine Initiative.
Mr. Lewis, who holds Canada's highest honour for lifetime achievement, a Companion in the Order of Canada, has also served as Ambassador to the United Nations, and as Deputy Director of UNICEF at the global headquarters in New York.
He is currently a professor in Global Health in the Faculty of Social Sciences at McMaster University.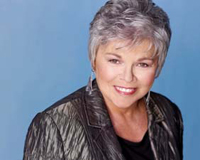 As the president and chief executive officer of the National Aboriginal Achievement Foundation, Roberta Jamieson is known across Canada and throughout the world as a leader, a visionary and a skilled mediator.
A former Chief of the Six Nations of the Grand River, Ms. Jamieson has worked primarily as a policy advisor in government bodies, including as a commissioner on the Indian Commission of Ontario and as the first woman appointed to the Ontario's provincial ombudsman.
She was also the first Aboriginal woman ever to earn a law degree in Canada and the first non-Parliamentarian to be appointed an ex officio member of a House of Commons committee.
Ms. Jamieson has been recognized internationally for her work in developing and promoting alternative dispute resolution methods with the Goodman Fellowship from the University of Toronto, and the International Association for Conflict Resolution's Mary Parker Follet Award. She has also been awarded a National Aboriginal Achievement Award for her achievements in law and justice and was named to the Order of Canada in 1994.
---
Mr. Lewis will be accepting his honourary degree at the Thursday morning ceremony (May 20) and Ms. Jamieson will be honoured at the Friday morning convocation ceremony (May 21). Both ceremonies begin at 10 a.m. in the Seton Academic Centre Auditorium, Mount Saint Vincent University.
The Mount Convocation ceremonies will be streamed live on the University website at msvu.ca. Interview and photo opportunities are also available.

About Mount Saint Vincent University
Recognized as a leader in flexible education, applied research, and a personalized approach to education, Mount Saint Vincent University is nationally recognized among undergraduate universities in Canada for our success in Social Sciences and Humanities Research Council grants and for having one of the lowest student-to-professor ratios. The Mount is committed to providing the best university experience for all members of our community and to developing thoughtful, engaged citizens who make a positive impact on their world. For additional information about the University, visit msvu.ca. 
Contact:
Akiko Lovett
akiko.lovett@msvu.ca
(902) 441-0505