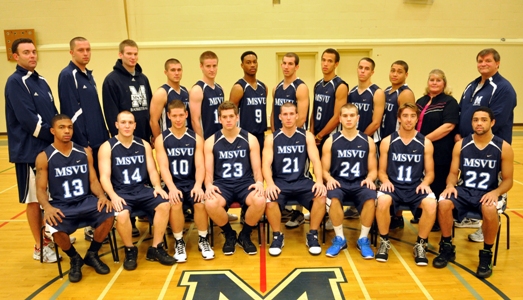 Behind the Mount's long-standing tradition of top varsity athletic teams is a long line of exemplary coaches and mentors. One such mentor is Rick Plato, coach of the Mount Mystics Men's Basketball team for 22 years.

Rick recently celebrated his 500th win as coach of the team, which ranks among the best in the country. The wins include league, playoff, national and exhibition games that have been played coast to coast by teams filled with incredibly talented young men.

"500 wins is an amazing accomplishment, and it's really a testament to Rick's commitment to the Mount's varsity program," says June Lumsden, Director of Athletics and Recreation at the Mount. "Our athletes work very hard on and off the court, and many are now coaches themselves. It's a testament to what Rick taught them."

In addition to Rick's 500 career wins, the Mount team has been ACAA champions for the past five years, and is currently the top ranked team in the league for the 2010/11 season. For the players who have had the experience of being coached by Rick, there is little room for doubt about how they've come to be so successful.

"Playing for Rick allowed me to observe what the true definition of what a strong, sometimes maniacal, work ethic is," says Peter Turnbull, a former player for the Mount Mystics. "He's a teacher, coach, business owner/operator and husband, and all of the alumnae were taught that work ethic through his example."

When Rick isn't coaching the Mystics to the top of the ranks in basketball, he's a teacher for the Halifax Regional School Board. He has been teaching such topics as Global History and Political Science at Charles P. Allen High School for many years, and has earned a reputation as being one of the toughest, but most compelling teachers in the school.

"It's not surprising at all that Mr. Plato is so accomplished as a coach," says Christie Blotnicky, a 4th year Mount Public Relations student and former student of Rick's. "He continually pushes his students to work hard and get all they can out of his courses. He's an excellent teacher, and undoubtedly an excellent coach as well."

On Friday, February 4 the Mount celebrated Rick's achievement of coaching our men's basketball team to 500 wins.

Congratulations, Coach. We look forward to the next 500.
Pictured above, Coach Plato with the 2010/2011 Men's Basketball team.