Best-selling author and human rights activist to share her story of modern slavery during public talk and film screening February 5
Mende Nazer was just 12-years-old when slave traders attacked her South Sudanese village in 1993, abducted her and sold her into slavery. Her family thought she had been killed, but Mende spent the next eight years as a slave in Sudan and then in London, England. It was an encounter with a South Sudanese man during her errands one day that finally brought her to freedom. Years later, in 2006, she would be reunited with her family in South Sudan.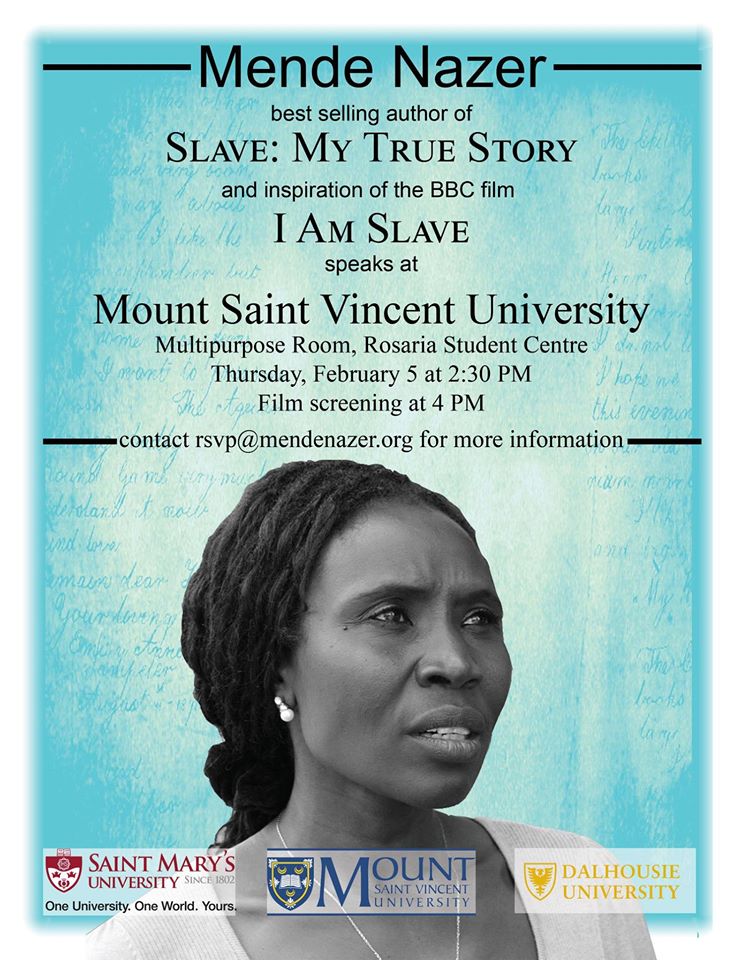 On Thursday, February 5th, 2015, Mende Nazer will visit Mount Saint Vincent University for a public talk and screening of the acclaimed film "I Am Slave", which was inspired by h
er story.
All are welcome.
This will be Mende's first speaking engagement in North America as a representative of her Foundation – she has spoken extensively across Europe, with limited previous North American appearances.
Mende's book "Slave: My True Story" was published in 2005 and proceeds now support the work of the foundation that bears her name and seeks to give hope and opportunity to the children of her home community by "building primary schools, wells and water purification systems in the impoverished and war-torn Nuba Mountains region of South Sudan." For more on the Mende Nazer Foundation, please visit:
http://mendenazer.org/
.
The event is being hosted by the Mount's
International Education Centre
, in collaboration with Dalhousie University and Saint Mary's University, to mark International Development Week in Canada (February 1 to 7, 2015).
What: Remarks by Mende Nazer, with an introduction by Mount President and Vice-Chancellor Dr. Ramona Lumpkin, CM and Mende Nazer Foundation Chair Janan Sutherland, former UN observer in South Sudan
When: Thursday, February 5th, 2015 — Doors open at 2:30; Remarks at 3 p.m.; Screening of the BBC film "I Am Slave" at 4 p.m.
Where: Multipurpose Room, Rosaria Student Centre, Mount Saint Vincent University, 166 Bedford Highway, Halifax
Mende's book will be available for purchase at the event. There will also be refreshment sales during the movie. All funds raised will support the work of the Mende Nazer Foundation. Please bring a few dollars if you can.
Note to media: Mende is available for interviews in the days leading up to the event by phone or online, with some availability during her time in Halifax. Brief interviews could also be arranged at the Mount prior to the start of the event on February 5th.
Media contact:
Gillian Batten
Public Affairs, Mount Saint Vincent University
902-457-6439
Gillian.Batten@msvu.ca