Dear MSVU community,
We write to you today to mark the start of National Indigenous History Month, a time to recognize the rich history, culture and diversity of First Nations, Inuit and Métis peoples across Canada. Below we share a greeting from Florence Blackett, the new Indigenous Student Services Coordinator at MSVU. We encourage you to read Florence's message and explore the resources she has featured.
In addition to coordinating the services of the Indigenous Student Centre/Kina'masuti aqq Apognamasuti (meaning learning and help), Florence also recently crossed the Convocation stage at MSVU to receive the degree of Bachelor of Science in Applied Human Nutrition. She was among our first group of Indigenous graduates to be offered a new Indigenous stole to wear as part of their Convocation attire.
An initiative led by Alyssa McIntyre, the previous Indigenous Student Services Coordinator at MSVU, and with the support of the L'nu Advisory Circle, the red stole features a bear paw, feather with Inukshuk, Bedford barrens petroglyph, a double curve motif, Indigenous Student Centre logo and MSVU logo, all attached in fabric and embroidery, as well as a fringe of black, red, white and yellow ribbons.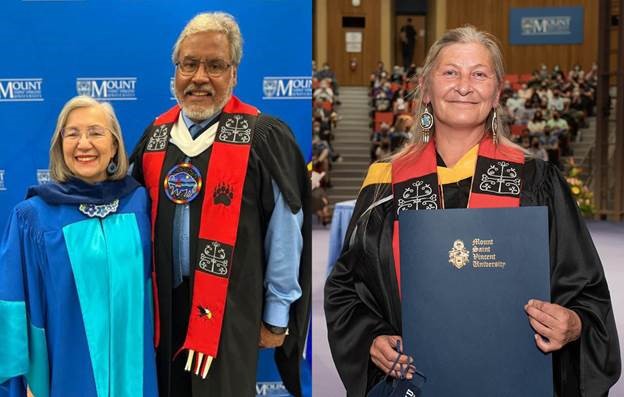 (Image description: Dr. Marie Battiste, Honorary Degree recipient, with Patrick Small Legs-Nagge, Special Advisor to MSVU on Indigenous Affairs; and Florence Blackett, Indigenous Student Centre Coordinator, at Spring 2022 Convocation)
The new stole is one of a number of initiatives being undertaken by the university on our truth and reconciliation journey. Last October, then Interim President and Vice-Chancellor Dr. Ramona Lumpkin made an apology on behalf of MSVU to Indigenous Peoples with regard to the university's connection to residential schools via our founders, the Sisters of Charity Halifax. She also shared a series of 12 commitments for future action that were developed in consultation with the L'nu Advisory Circle.
We have made progress on several of these commitments, including: the establishment of an Auntie in Residence position at MSVU, ensuring Indigenous representation on the Board and Senate and hosting ceremonial healing circles with both governance bodies, and the Indigenization of curriculum. The University also recently announced the creation of a new fund in support of Indigenous students through a $500,000 donation from philanthropists Scott McCain and Leslie McLean, and an additional $500,000 investment by MSVU.
While National Indigenous History Month and National Indigenous Peoples Day (June 21) are opportunities for celebration, we must also reflect on the difficult year it has been for Indigenous communities across Canada. The continued identification of unmarked graves at former residential school sites is a continued unearthing of tremendous pain and a reminder of the intergenerational trauma caused by the residential school system. Awareness of and dialogue regarding these tragedies must not be allowed to fade.
Please read and reflect on Florence's message below, and plan to participate in opportunities for learning throughout this month.
Sincerely,
Patrick Small Legs-Nagge, MSW
Special Advisor on Indigenous Affairs
Mount Saint Vincent University
and
Sheila A. Brown, PhD
Interim President and Vice-Chancellor
Mount Saint Vincent University
A message from Florence Blackett, Indigenous Student Services Coordinator:
The month of June is National Indigenous History Month, with June 21 marking National Indigenous Peoples Day.
This June marks one year since the horrific discovery of a mass grave containing 215 children at Kamloops Indian Residential School in Canada. In the year that has passed there has been a drive to search each of the Residential School sites for additional unmarked graves. Since the discovery of the these first unmarked graves, many more have been discovered. The combination of overt and systemic racism that can be found in the horrific treatment of Joyce Echaquan who tragically passed away after being verbally abused by hospital staff, and the deaths of Chantel Moore and Rodney Levi by police shooting are only highlights of the treatment and realities that Indigenous folks face in this country, yet, still we stand, still we grieve and still we celebrate our multitudes, unique histories, and ways of being and knowing alongside each other, despite enormous challenge at times.
It is my hope that this National Indigenous History Month many of the non-Indigenous people who have expressed shock, disbelief, disgust, anger and/or shame at the realities coming to light in this country take the time to process these emotions and take actionable steps to help shift our current landscape towards a more just society that is rooted in equity and collective care for each other.
This year, MSVU launched a new Indigenous Resource Hub/ L'nuey Etl-Mawo'tumk that features a variety of podcasts, books, documentaries, reports, articles, films and free online courses to begin the journey of education that is rooted in truth and to celebrate the beauty, resiliency, and multitudes of our people. I encourage you to explore that online resource hub and have included some highlights below.
Florence Blackett
Indigenous Student Services Coordinator
Mount Saint Vincent University  
Resource highlights
Education
Celebration
Podcasts
Books
Films/TV