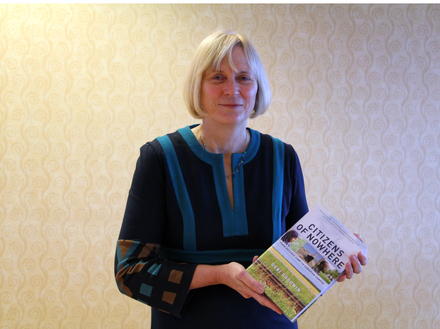 On February 7th, as a part of International Development Week, former CBC journalist and documentary producer for CBC's The National, Debi Goodwin, will be coming to Mount Saint Vincent University's Lunch & Learn to share her experiences and do a reading from her new book, Citizens of Nowhere.
Citizens of Nowhere is an inspiring story of courage, adaptation and determination. Goodwin's book follows a year in the life of 11 different refugee students entering university all across Canada. One of the students featured in her book, Halima Abdille, has been attending the Mount since 2008 and was its first student through the Student Refugee Program of the World University Service of Canada. Goodwin followed Abdille on her journey from Kenya to Halifax and has written about Abdille's experiences.
"It brings back memories, not only of my first year at the Mount but also of home, family, and friends," says Abdille. "Usually you're reading about somebody else in a book but this time, it was unreal to read about myself," she continues. "Looking back on those days, I feel like a different woman."
Goodwin has produced documentaries in the Middle East, Somalia, Mexico, El Salvador and China. In 2007, Goodwin was in Kenya filming the documentary The Lucky Ones, which inspired her book. Her documentary won the RTNDA's Adrienne Clarkson Award for best network program in 2008. She also received a Gemini nomination and a Chris Award from the Columbus Film Festival. While Goodwin was in Kenya, the Mount was starting to become more involved with the World University Service of Canada and has since sponsored two more students from refugee camps in Kenya.
  
Paula Barry, Manager of the Mount's International Education Centre, is the administrative coordinator for WUSC and has been heavily involved in the local committee.
 "We are so thrilled to have Debi on campus to read from her book. I read it in 2 days!" says Barry. "It was so important for me to know more about what our students have faced in the Dadaab refugee camp and it was insightful to hear of other students' experiences throughout Canada."
Join us on February 7th at 12 p.m. in the Seton Academic Centre, room 304 for snacks and beverages and to hear the amazing tales that both Goodwin and Abdille have to share!
For more information, contact Paula Barry at 457-6130.